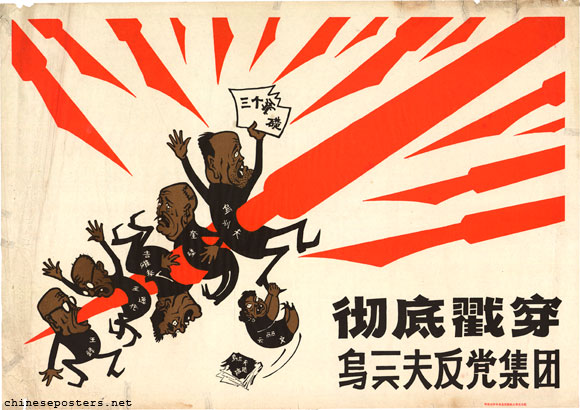 Designer: Hohhot Revolutionary Rebel Liaison Headquarters Fine Arts Group (呼和浩特革命造反联络总部美术组)
ca. 1966
Thoroughly expose Ulanfu's anti-Party clique
Chedi chuochuan Ulanfu fandang jituan (彻底戳穿乌兰夫反党集团)
Size: 53x75 cm.
Call number: BG E15/179 (Landsberger collection)

Ulanfu, an ethnic Mongol, first party secretary of the Inner Mongolian Autonomous Region and alternate Politburo member, was among the first high Party officials to fall. He was dismissed in August 1966 and accused of being 'the biggest party power-holder taking the capitalist road'. This poster was made in Hohhot, capital of the Inner Mongolian Autonomous Regon.