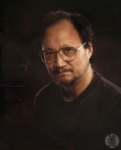 Fang Shicong (1941) hails from Shanghai. After his graduation from the Oil Painting Department of the Shanghai Art School, he worked in the Art Department and the Dance Department of the Shanghai Opera Institute.
In 1987, Fang went to France, a mecca for art, and has lived abroad for a long time. During this period, he held more than 30 painting exhibitions in Europe and the United States. Oil paintings have won special awards and the highest judge awards in France and the United States. In 1983, the oil painting "Oriental Girl" won the special prize of the "Chinese Modern Painting Exhibition" in New York. In 1988, "Red Cloth · Human Body" won the Jury Prize of the Art Salon of the 18th arrondissement of Paris. In 1995, the oil painting "Sunset on the Seine" won the Municipal Government Prize of the Art Salon of Saint-Germain. In 1997, the oil painting "Little Princess" won the best prize from the judges of Gao Peiyi Art Salon. His paintings have been collected by Prince Charles of the United Kingdom, Prince Albert of Monaco, the Alfons Dodd Memorial of France, the Shanghai Art Museum, and the Zhang Chongren Memorial.
Fang excels in oil painting and propaganda art.