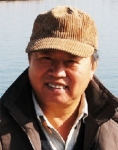 Li Enyuan (1942) was born in Jixi City, Heilongjiang Province. He graduated from the Oil Painting Department of the Lu Xun Academy of Fine Arts in 1966 and worked successively in Jinzhou Museum and Jinzhou Education College. He used to be a researcher of the Liaoshen Battle Memorial Hall and a manager of a large art company of the Liaoshen Trading Corporation.
In 1986, he participated in the organization and creation of China's first panoramic painting, the "Capture Jinzhou" Panorama at the Memorial Hall of the Battle of Liaoshen and Shenyang. Later, he participated in the pre-production work of the panorama painting "The War of Encirclement and Annihilation by the Qingchuan River" at the Anti-US Aid Korea Memorial Hall. In 1995, he presided over the creation of the Taierzhuang War Memorial, the "Blood Battle in Taierzhuang" Panoramic Painting, and won the special prize of the 50th Anniversary Art Exhibition of International Anti-Fascist Victory.
He has published and exhibited nearly a hundred works. In 1992 and 1997, he successively won the first prize of scientific and technological progress of the Ministry of Culture and a special government allowance issued by the State Council.
Li Enyuan's daughters Li Ke and Li Xiaoshi are both famous contemporary young oil painters.