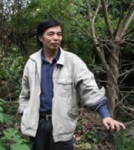 Li Huiquan (1954) was born in Jianyang, Sichuan Province. He graduated from the Department of Fine Arts of Sichuan Education College and formerly worked at Jianyang Film Company. He now is the fine art cadre of the Jianyang Cultural Center.
His work "Little Carefulness" won the first prize of the 4th National New Year Art Exhibition, "Battlefield Wedding" and "Bright Stars" won the third prize; "Shenzhou Spring" participated in the 7th National Art Exhibition, "Qian Xuesen" participated in the 5th National New Year Painting Exhibition.
Li is good at New Year paintings and gouache paintings.