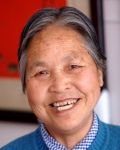 Li Fenglan (1933, Huxian, Shaanxi Province) has been fond of traditional paper-cutting since childhood. She started learning painting when she participated in a mass irrigation project in 1958. Afterwards, she combined her artistic work with farm work. A representative of the Huxian peasant painters, she was inspired by the various aspects of rural production. "Spring hoeing", one of her most famous works, is part of the collection of the Shanghai Museum.
On an early edition of this poster, Lin Fenglan is identified as Guangming Commune, Xihan Village Production Brigade, Party Branch Committee Member, cotton affairs team leader (光明公社 西韩村大队 党支部委员、务棉组长).
Ms. Li has been a representative at the National People's Congress and a member of the National Political Committee. Later she was a member of the Chinese Artists Association and vice-chairperson of the Huxian Association of Peasant Painting.
Here are some propaganda photographs of Li Fenglan from 1974-1975: