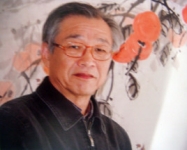 Liu Chunhua (1944), also known as Liu Chenghua 刘成华, was born in Tailai, Heilongjiang Province. In 1959, he entered the secondary school attached to the Lu Xun Art Academy in Shenyang. He enrolled in the Applied Arts Department of the Central Industrial Arts Academy in 1963. During this period, he created his most noteworthy work, 'Chairman Mao goes to Anyuan' (毛主席去安源), ensuring him nation-wide fame. This was largely due to the fact that it was explicitly promoted by Jiang Qing as a model painting equal to the model operas and ballets (样板戏, yangbanxi) that she espoused. As such it became the benchmark for the iconographical representation of Mao.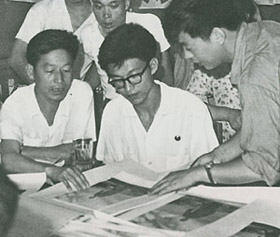 He collaborated with Wang Hui on a number of works. After graduation, Liu engaged in various types of art work and worked as an editor at the Beijing Publishing House before he joined the Beijing Academy in 1979. Liu specializes in oil painting and Chinese painting.
In March 1998, Liu's painting, which had been purchased at the record price of US$660,000 by the Construction Bank of China, was declared a cultural relic, the first painting since 1949 to be officially recognized as such.