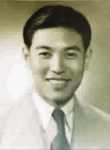 Wang Tong was born in Shanghai in 1913. When he was 18 years old, he was admitted to the Shanghai United Advertising Company and became a painting intern. A few years later, he was admitted to the advertising department of the Nanyang Brothers Tobacco Company and designed cigarette cards.
The liberation of Shanghai (27 May 1949) was a festive day for Wang Tong and many citizens who rushed to the streets with red flags to welcome the People's Liberation Army. Unable to restrain his excitement, he decided to fully express his excitement and joy. So "The Great Liberation of the Chinese People. This is a great happy event" (hereinafter referred to as "the Great Liberation") was born under his brush. The poster was published by the Shanghai Tonglian Bookstore. That year, the Shanghai Municipal Bureau of Culture held the first art exhibition, and Wang Tong presented his "Great Liberation" to the exhibition. After the exhibition received rave reviews, the organizing committee gathered opinions from many parties and believed that "Great Liberation" could be used as a masterpiece of New Year pictures, from content to expression methods. Thus, it became the first New Year picture after the founding of New China.
Later, Wang became known for his serial cartoons.