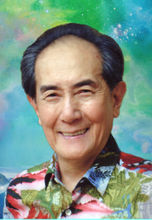 Liu Yuyi (1940) was from Zigong, Sichuan Province. He entered the Middle School attached to the Central Art Academy in 1955. Upon his graduation in 1960, he was sent to the Guangxi Zhuang Autonomous Area. There, he worked as an arts editor in the Guangxi People's Publishing House and taught at the Guilin Painting Academy as well as the Guangxi Calligraphy and Painting Academy. He became an Associate Professor at the Guangxi Art Academy. Liu currently resides and works in Shenzhen.
Liu is a very versatile oil painter, known for his huge canvasses that commemorate landmarks in recent Chinese (and world) history. Aside from (Chinese and world) politicians, leaders and other (pop) celebrities, he does nudes, deities from Chinese mythology, etc.
Liu did a commemorative work for the Macao Handover in 1999, more recently one to commemorate the 10th anniversary of Hong Kong's return to Chinese sovereignty, and he has been commissioned to do one to mark the start of the 2008 Olympics in Beijing. Some of his paintings have been included in the collection of the Chairman Mao Memorial Hall. He collaborates with his daughter, Liu Haomei (刘浩眉).