八一颂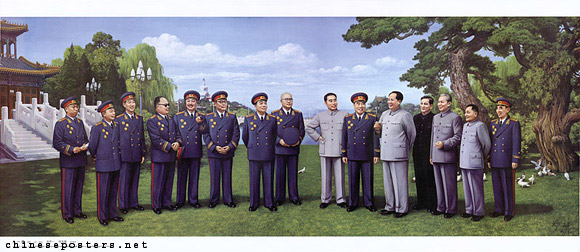 1 August 1927 is the date of the "Nanchang Uprising", commemorated as the anniversary of the founding of the People's Liberation Army.
The poster shows an imaginary meeting of PLA Marshals (Zhu De, Chen Yi, He Long, Peng Dehuai, Ye Jianying, Luo Ronghuan, Xu Xiangqian, Nie Rongzhen, Liu Bocheng, Lin Biao) and Party leaders (Zhou Enlai, Mao, Liu Shaoqi, Deng Xiaoping, Chen Yun) at Zhongnanhai, Beijing.
The position of Zhu De and Chen Yun at Mao's left and right side is remarkable. But Lin Biao's presence at the far right is even more striking, after decades of invisibility.