Xu Chunzhong (1947), born in Shanghai, learned painting from his father when he was a child. When he was 5 years old, his work was praised by Song Qingling, and he held a solo exhibition in Shanghai. He was sent to the Chongming Farm in Shanghai during the "up to the mountains and down to the villages" campaign. As a so-called amateur artist, was commisioned in 1969 to illustrate the heroic death of Jin Xunhua. Xu was assisted by Chen Yifei, a professional artist. The image they produced was widely published, also as a poster, and acquired national fame.
In the 1990s, Xu went to the USA, where he taught at the University of California, Los Angeles. He produced series of large oil paintings on the role of Chinese Americans in American history and on "70 glorious moments in Chinese history". In 2001, Xu made three paintings on the attack on the World Trade Center, depicting the heroic firefighters and policemen. He donated these paintings to the American government, and they were reproduced on posters and postcards.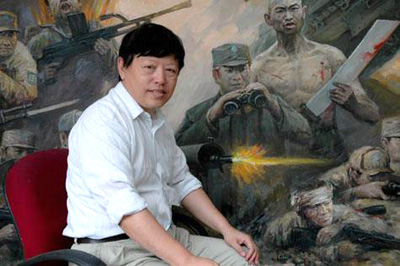 In 2005, he returned to China and taught at the Textile College of Donghua University.