Yang Jingzhi (1940, Tianjin) graduated from the Arts Department of the Beijing Arts Normal College in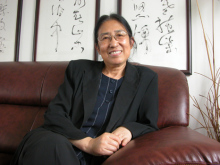 1960. Afterwards, she taught art courses for a long time. Later she was associate professor in the Arts Department of Beijing Normal College.
Ms. Yang is known for her New Year pictures. She cooperated with Jin Futang.