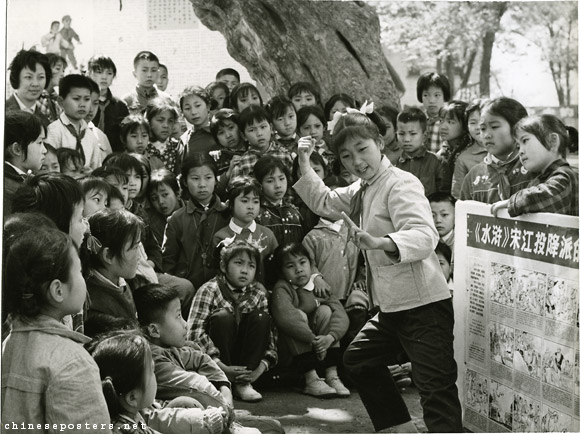 Photographer unknown
1976, 5 June
Excellent situation in revolution and production in East China County
Publisher: Hsinhua News Agency
Call number: BG B31/769 (IISH collection)

Text on the back: "Story teller of the Little Red Soldiers' theorist group of a primary school in Chinshan County near Shanghai makes comments on the novel "Water Margin" on the campus. The pupils use it as teaching material by negative example to lay bare the leading character Sung Chiang's capitulationist features of betraying the peasant uprising and securing amnesty and enlistment from the emperor of the Sung Dynasty and criticize the arch unrepentant capitalist roader in the Party Teng Hsiao-ping's crimes of whipping up the Right deviationist wind in a vain attempt to restore capitalism."
(Teng Hsiao-ping is the old transcription for Deng Xiaoping)
The poster on the right is "The despicable countenance of the capitulationists' clique of "Shuihu"'s Song Jiang", 1975.