李自成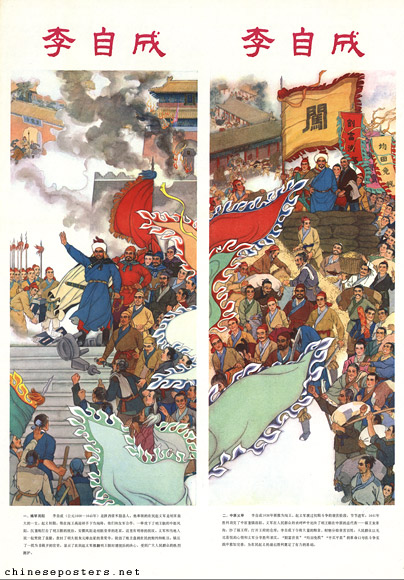 Renmin meishu chubanshe (人民美术出版社)
Li Zicheng (李自成 1606–1645), born as Li Hongji 李鸿基 and also known by the nickname "Dashing King", was a Chinese rebel leader who overthrew the Ming dynasty in 1644 and ruled over northern China briefly as the Yongchang 永昌 emperor of the short-lived Shun dynasty before his death a year later. Li had a reputation as a Robin Hood style figure who showed compassion to the poor and only attacked Ming officials.
Li took over the Ming capital, marking the end of the Ming dynasty, in April 1644. The Chongzhen Emperor committed suicide. Li's armies in turn were defeated on 27 May 1644 at the Battle of Shanhaiguan by the combined forces of the defecting Ming general Wu Sangui and Prince Dorgon, leading the Manchus. This marked the beginning of the Manchu Qing dynasty.
Source:
Wikipedia -- Li Zicheng
This is the first of two sheets.