坚决持行和捍卫毛主席的"三结合"的正确的方针,一切权力归上海市革命委员会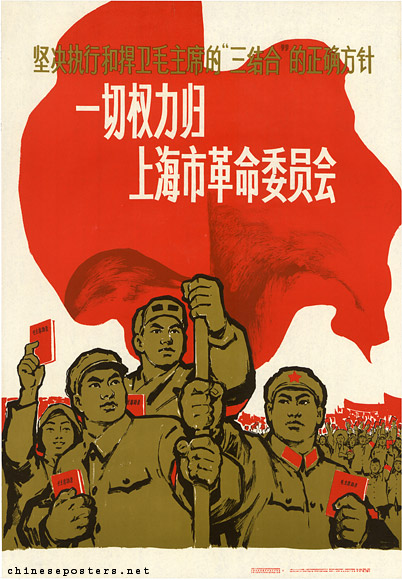 As producers and collective authors of this poster, the following organizations are mentioned:
Liaison Office of the Artistic Front of Shanghai Workers' Revolutionary Rebel General Headquarters (上海工人革命造反总司令部美术路线联络站),
Revolutionary Rebel Headquarters of the Shanghai Publishing System (上海出版系统革命造反司令部),
"Fight to the bitter end" corps of the Shanghai People's Fine Arts Publishing House (上海人民美术出版社《拼到底》兵团).
Who actually made the design is not mentioned. One or more of the well-known artists in the Shanghai poster industry may have been involved.