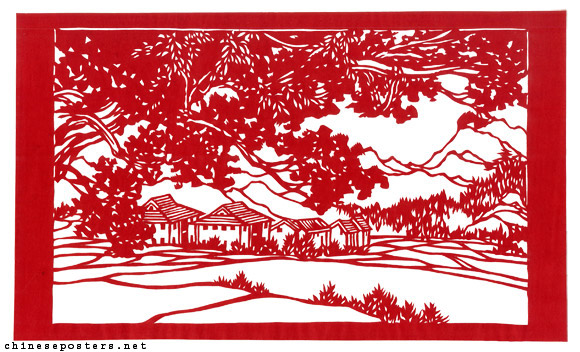 Designer unknown (佚名)
Mid 1970s
Sanwan (Jiangxi province)
San Wan (Jiangxi sheng) (三弯 - 江西省)
Publisher unknown
Size: 13.5x22.5 cm.
Call number: PC-PC009-04 (Private collection)

Chinese papercut, from the series 'Sacred Places of the Revolution'.

Sanwan is a mountain village in Jiangxi province. During the autumn of 1927, communist troops regrouped here after being defeated by Guomindang forces. In Sanwan, Mao reorganized the remaining troops into the "1st Regiment, 1st Division, of the First Workers' and Peasants' Revolutionary Army", an all-volunteer army under strict control of the Communist Party. Mao's residence, originally a grocery, later was restored and listed as a 'state-protected major relic'. From Sanwan the troops moved on to Jinggangshan.