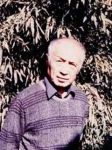 Lin Gang (pseudonym of Zhang Guansheng 张冠生, 1924) was born in Ningjin, Shandong Province. After studying in the Fine Arts Department of Huabei United University, he became a research student in the Central Academy of Fine Arts in 1950. In 1954, he went to the Soviet Union for study at the Repin Institue in Leningrad, where he graduated in 1960. After his return, he became a professor in the Oil Painting department of the Central Academy of Fine Arts. Oil painting is his speciality, and he was accorded numerous prestigious awards.
In 1951, Lin became known with the painting "Zhao Guilan at the conference of outstanding workers", which was praised because it was seen as an accurate expression of the spirit of the times. It features the CCP leadership including Mao Zedong, Zhou Enlai, Liu Shaoqi and Zhu De, meeting with model workers. (This poster version was published in 1952).
The 1977 poster "Premier Zhou is our close friend", devoted to Zhou Enlai's visit to the model commune Dazhai and meeting with its Secretary Chen Yonggui, is based on an original oil painting by Lin, in collaboration with Su Gaoli and Lin's wife Pang Tao.