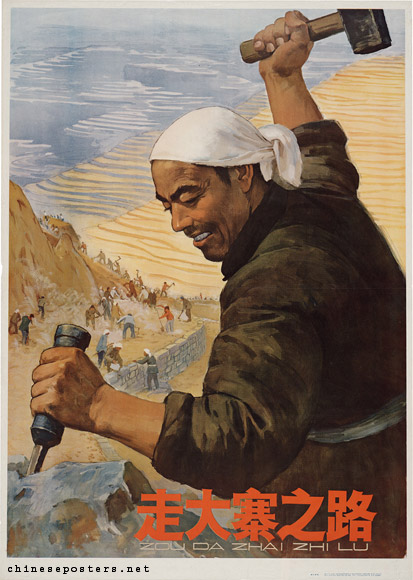 Chen Yonggui (陈永贵, 1913-1986) can probably be best characterized as "Mr. Dazhai". Active in revolutionary work since 1942, he was the driving force behind the developments that turned Dazhai, Xiyang County, Shanxi Province, into a national model in 1964 with Mao Zedong's call "In agriculture, learn from Dazhai".

Active in revolutionary work since 1942, he headed the cooperativization movement in 1952. As chairman of the cooperative (later commune) and Party branch secretary, he was nominated as a model worker on the provincial (1957) and national levels (1964). Under his leadership, Dazhai was turned into a showcase of self-reliance, attracting scores of Party and State leaders, foreign visitors, workers, peasants, (young) revolutionaries, journalists and artists. Veteran designer Qian Daxin was one of the artists who immortalized Chen.
Chen was illiterate until he was 43, but using Mao Zedong's writings as a textbook, he became well-versed in revolutionary theory. From 1973 until 1980, he was a member of the Politburo, and from 1975 until 1980, he even served as one of China's Vice-Premiers.
When Deng Xiaoping eased Hua Guofeng out of office in the late 1970s (the poster below that shows the three of them together most certainly is apocryphal), the model status of Dazhai and Chen Yonggui increasingly came under a cloud. In 1983, Chen was rumoured to have been appointed advisor to one of Peking's suburban state farms.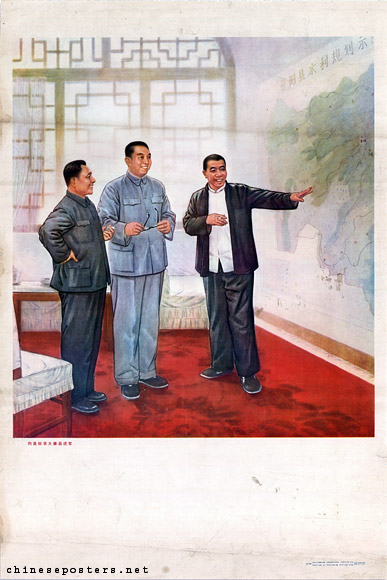 Tachai - Pacesetter in China's Agriculture (Peking: Foreign Languages Press 1978)
Guo Jian, Yongyi Song & Yuan Zhou, Historical Dictionary of the Chinese Cultural Revolution (Lanham, etc.: The Scarecrow Press, Inc., 2006)
Wen Yin & Liang Hua, Tachai - The Red Banner (Peking: Foreign Languages Press 1977)
Xiyang County 'Geography of Dazhai' Writing and Editorial Group, Geography of Dazhai (Peking: Shangwu yinshuguan 1975) [in Chinese]