群英会上的赵桂兰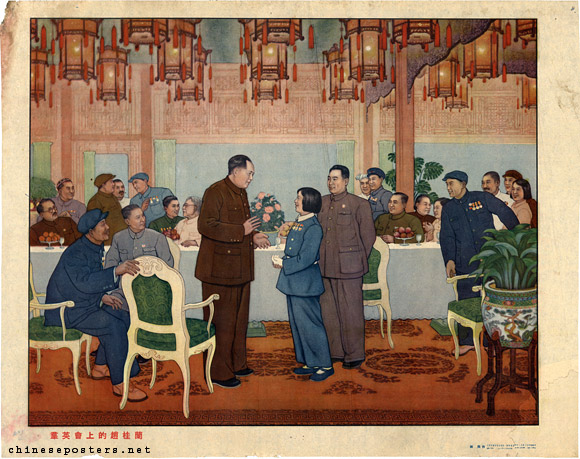 Renmin meishu chubanshe (人民美术出版社), Beijing
Zhao Guilan (赵桂兰) was a chemical worker who risked her life to protect the state-owned factory she worked in from disaster. She was praised as model worker and received by Mao and other state leaders during the National Conference of Model Workers, Peasants and Soldiers, 25 September 1950 in the Huairen Hall (怀仁堂) in Zhongnanhai, the government's leadership compound in Beijing.
A painting of this meeting by Lin Gang was published as a New Year print in several editions, winning a first prize in the national nianhua competition. Zhao Guilan is shown standing between Mao and Zhou Enlai. Other CCP leaders shown include Liu Shaoqi and Zhu De. With her right hand, Zhao supports her disabled left hand (in a white glove).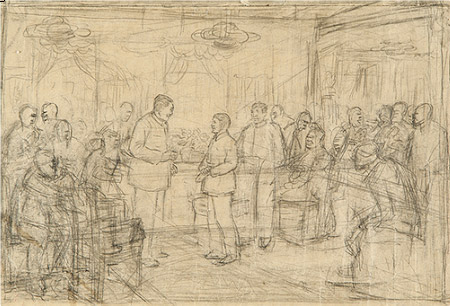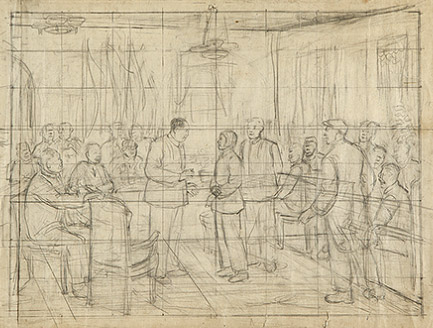 In 2012, two sketches for the painting from 1950 were exhibited in the Hadrien de Montferrand Gallery in Beijing. (Images from http://www.hdemontferrand.com/

).
Sources:
Chang-tai Hung, Mao's New World. Political Culture in the Early People's Republic (Ithaca, London: Cornell University Press, 2011)