喜送亲人上大学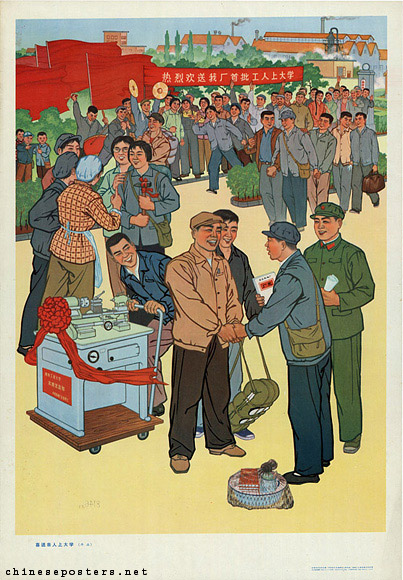 Gansu renmin chubanshe (甘肃人民出版社)
This scene takes place at the Yonghong ("Forever Red") Machinery Factory - 永红机械厂 - in Guizhou. It was set up in 1969-1970 as part of the Third National Defense Front to move defense industry to mountainous areas.
The banner in the background says "Warmly send the first batch of workers of our factory to university" - 热烈欢送我厂首批工人上大学. Besides the workers, the lathe produced here is sent to the University as well.
Renamed as the Guizhou Yonghong Aviation Machinery Co., Ltd., it relocated to Guiyang in 1992. It now is a subsidiary of China First Aviation Guizhou Group and a professional manufacturer of aviation cooling systems (accessories) and civil heat exchangers.