斗争会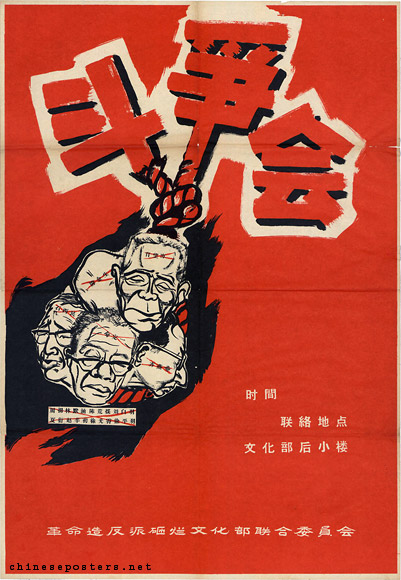 In the noose are, from top to bottom: Xiao Wangdong (萧望东), Yan Jinsheng (颜金生), Shi Ximin (石西民), Lu Dingyi (陆定一) and Qi Yanming (齐燕铭). They are the main victims of the struggle meeting, held in Beijing.
More names of people to be struggled against are on the sign below the heads:
Zhou Yang (周杨), Xia Yan (夏衍), Lin Mohan (林默涵), Zhao Xinchu (赵辛初), Chen Huangmei (陈荒煤), Xu Guangxiao (徐光霄), Liu Baiyu (刘白羽), Xu Pingyu (徐平羽).
On the right, the time for the meeting (时间,shijian) has not been filled in. The 'contact venue' (联络地点, lianluo didian) is printed: 'the small building behind the Ministry of Culture' (文化部后小楼, wenhuabu hou xiaolou).
Translations: Luuk van 't Hoff