中央人民政府为代表中华人民共和国全国人民的唯一合法政府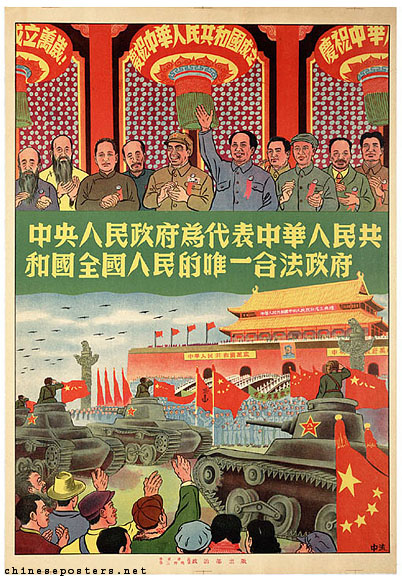 Political Department of the Third Field Army of the East China Military Region (華東軍区第三野戰軍政治部)
Parade on the occasion of the proclamation of the People's Republic of China on Tiananmen Square in Beijing, 1 October 1949. Mao stands above, fifth from the right, with members of his first government.
From left to right: Shen Junru, Zhang Lan, Song Qingling, Dong Biwu, Zhu De, Mao, Li Jishen, Liu Shaoqi, Chen Yun (probably; it could also be Cheng Qian), Gao Gang.
Characters in the bottom right corner: 中流 (zhong liu - midstream). What this refers to is unclear.