刘少奇不投降就叫它灭亡!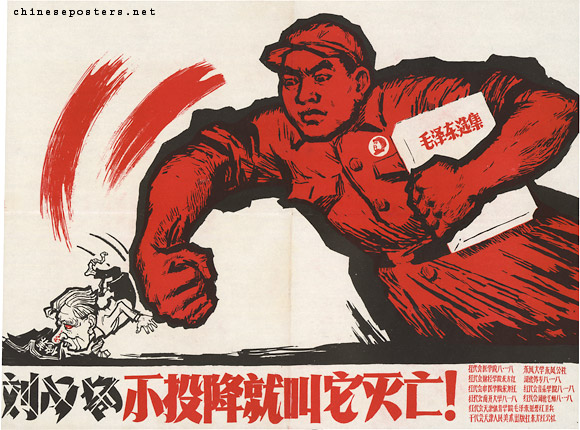 The organizations signing for the publication of this poster (below right):
Yixueyuan 8.18. Hongdaihui
Caijing Xueyuan Dongfang Hong. Hongdaihui
Zhongyi Xueyuan Dongfang Hong. Hongdaihui
Nankai Daxue 8.18. Hongdaihui
Tianjin Tiyu Xueyuan Mao Zedong Sixiang Hong Weibing. Hongdaihui
Yinyue Xueyuan 8.18. Hongdaihui
Heibei Yishi 8.18. Hongdaihui
Dongfang Gongshe. Dongfeng Daxue
Hebei Waizhuan 8.18
The book is a volume of the "Selected Works of Mao Zedong" (Mao Zedong xuanji - 毛泽东选集).