文艺为工农兵服务为无产阶级政治服务!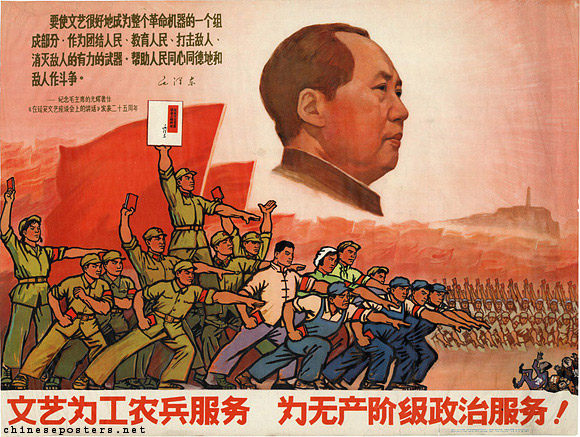 Shanghai renmin meishu chubanshe (上海人民美术出版社)
The Mao quotation top left is from Closing Remarks at the 1942 Yan'an Forum on Literature and Art, republished in the Little Red Book (chapter 32):
要使文艺很好地成为整个革命机器的一个组成部分, 作为团结人民,教育人民,打击敌人,消灭敌人的有力的武器,帮助人民同心同德地和敌人作斗争.
We must ensure that literature and art fit well into the whole revolutionary machine as a component part, that they operate as powerful weapons for uniting and educating the people and for attacking and destroying the enemy, and that they help the people fight the enemy with one heart and one mind.
The small caricatures under attack bottom right are marked with the characters 修 (xiu), 封 (feng) and 资 (zi): revisionism, feudalism and capitalism.