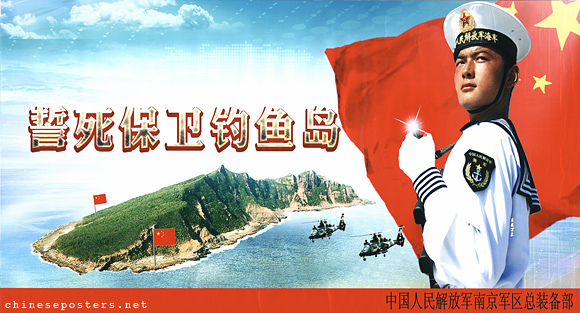 Pledge your life to defend the Diaoyu Islands, 2014
Sovereignty over the Pinnacle/Diaoyu (Chinese, 钓鱼岛)/Senkaku (Japanese, 尖閣諸島) islands has long been an issue of contention between the governments of China, Japan and Taiwan, but particularly during the past decades the topic has emerged as a highly volatile security issue in Asia. The PRC as well as the ROC base their claims to the Diaoyu/Senkaku islands on three arguments. First, China's initial discovery, use, and ownership. Second, the Japanese government's prior acknowledgement of China's claim to the islands. Third, Japan's cession of the islands to China after World War II. Japan's claims also rest on three points: that Japan has legal title to the islands, which were terra nullius (unoccupied) when it took them over; that it has administered the islands peacefully for over a century, holding residual sovereignty even while they were under U.S. administration; and that China previously acquiesced to Japan's sovereignty over the islands, which were and are uninhabited.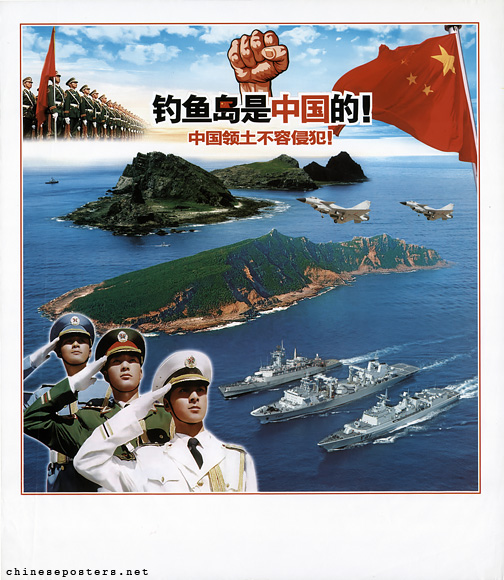 The Diaoyu Islands are Chinese! Chinese territory will not be invaded!, 2012
The uninhabited islets were historically used as maritime navigational markers and were never subjected to administrative control other than the recording of the geographical positions on maps, descriptions in official records of Chinese missions to the Ryukyu Kingdom, etc. The Japanese government annexed the islands in early 1895 while fighting China in the First Sino-Japanese War. A Japanese entrepreneur, Koga Tatsushirō (古賀辰四郎), constructed a bonito fish processing plant on the islands, employing over 200 workers. The business failed around 1940 and the islands have remained deserted ever since. In the 1970s, Koga Tatsushirō's son Zenji Koga and Zenji's wife Hanako sold four islets to the Kurihara family of Saitama Prefecture. Kunioki Kurihara owned Uotsuri, Kita-Kojima, and Minami-Kojima. Kunioki's sister owned Kuba.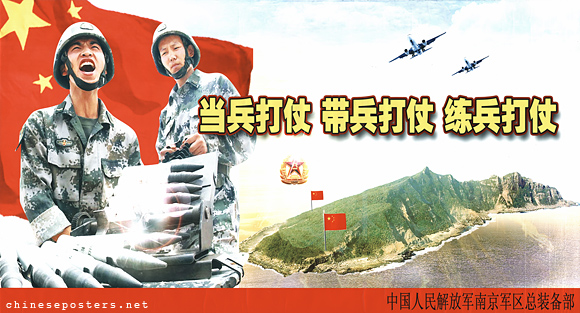 Serve as a soldier to go into battle, lead troops to go into battle, train as a soldier to go into battle, 2014
The islands came under US government occupation in 1945 after Japan's surrender ended World War II. In 1969, the United Nations Economic Commission for Asia and the Far East (ECAFE) identified potential oil and gas reserves in the vicinity of the islands. In 1971, the Okinawa Reversion Treaty passed the U.S. Senate, returning the islands to Japanese control in 1972. That same year, the Republic of China government and People's Republic of China government officially began to declare ownership of the islands.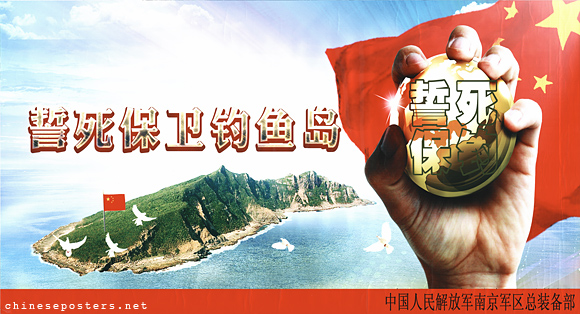 Pledge your life to defend the Diaoyu Islands, 2014
Since 1972, when the islands reverted to Japanese government control, the mayor of Ishigaki has been given civic authority over the territory. The Japanese central government, however, has prohibited Ishigaki from surveying or developing the islands. In 1978, a Japanese political group constructed the first lighthouse on Uotsuri island and grazed two goats. Goats have since proliferated and affected the island's vegetation. In 1988, a Japanese political group reconstructed a lighthouse on Uotsuri Island. In 2005, a Japanese fisherman who owned a lighthouse at Uotsuri Island expressed his intention to relinquish the ownership of the lighthouse, and the lighthouse became a national property pursuant to the provisions of the Civil Code of Japan. Since then, the Japan Coast Guard has maintained and managed the Uotsuri lighthouse. From 2002 to 2012, the Japanese Ministry of Internal Affairs and Communications paid the Kurihara family ¥25 million a year to rent Uotsuri, Minami-Kojima and Kita-Kojima. Japan's Ministry of Defense rents Kuba island for an undisclosed amount. Kuba is used by the U.S. military as a practice aircraft bombing range. Japan's central government completely owns Taisho island. On 17 December 2010, Ishigaki established 14 January as "Pioneering Day", to commemorate Japan's 1895 annexation of the Senkaku Islands. China condemned Ishigaki's actions.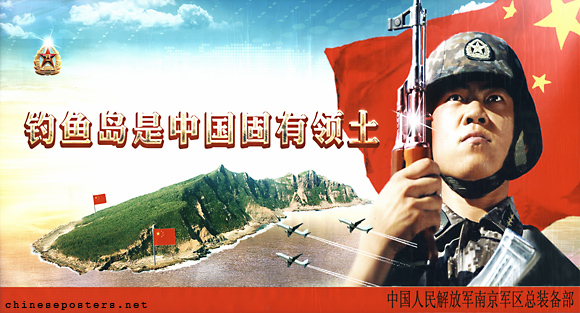 The Diaoyu Islands are China's inalienable territory, 2014
In 2012, both the Tokyo Metropolitan and Japanese central governments announced plans to negotiate purchase of Uotsuri, Kita-Kojima, and Minami-Kojima from the Kurihara family. On 11 September 2012, the Japanese government nationalized its control over Minami-kojima, Kita-kojima, and Uotsuri islands by purchasing them from the Kurihara family for ¥2.05 billion. China's Foreign Ministry objected, saying Beijing would not "sit back and watch its territorial sovereignty violated". In 2014, Japan constructed a lighthouse and wharf featuring Japanese flag insignia on the islets.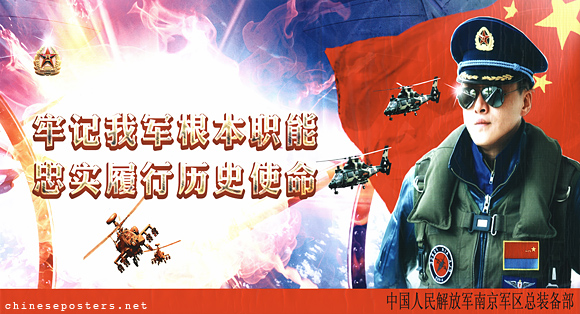 Firmly keep the basic ability of our army in mind to faithfully perform its historic mission, 2014
The years 2012–2013 witnessed a renewed flare-up of anti-Japanese sentiment in Mainland China, followed by a toughening of the PRC's Diaoyu Islands policy. Prior to 2012, Beijing largely restricted its words and deeds on the Diaoyu Islands dispute to reassertions of its sovereignty and non-military actions. The Chinese government sent fishery and patrol boats around the islands, but never armed PLA navy vessels. Even after a collision between the Japanese Coast Guard and Chinese fishing boats resulted in the Chinese boat captain being detained in 2010, the Chinese government did not send military vessels to the area. Prior to the escalation of popular anti-Japanese nationalism in 2012, China's leaders had no desire to escalate the dispute with Japan.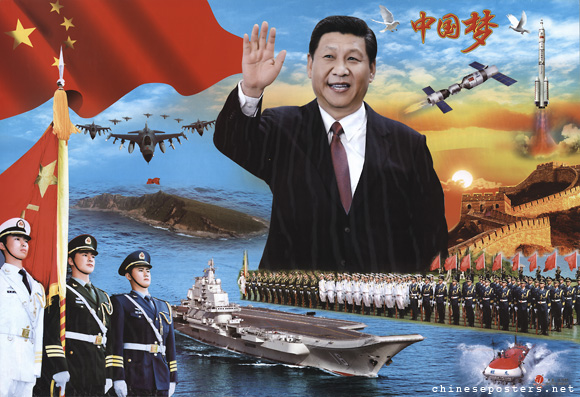 When it was announced in 2012 that Tokyo would buy three of the islands, Beijing's response was notably mild. Chinese internet users, or netizens (网民), by contrast, were upset at both Japan and their own government. Some urged a boycott of Japanese goods and were already expressing frustration that their government had allowed this to happen in the first place. Protests erupted in mid-August following the Japanese arrest of activists from Hong Kong on one of the islands. Chinese netizens began calling for large scale demonstrations against Japan, some even going so far as to criticize the CCP's 'weakness' over the situation.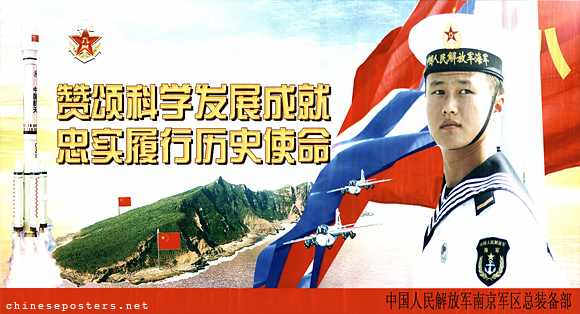 Praise the results of scientific development to faithfully perform our historic mission, 2014
Following Japan's perceived 'nationalization' of the islands on 5 September, Chinese leaders appeared to have begun losing control of the domestic situation. On 11 September, renewed street demonstrations broke out across China. Japanese property and Japanese-made products were damaged in Chengdu, Shenzhen, Suzhou, Qingdao, Beijing and other major cities. Following this mid-September outpouring of anti-Japanese and anti-government rage both online and off, the Chinese government sent PLAN warships to the Diaoyu/Senkaku area. There have been several military confrontations between fully armed Chinese and Japanese military personnel since then.
Edmund J. Burke, Timothy R. Heath, Jeffrey W. Hornung, Logan Ma, Lyle J. Morris, Michael S. Chase, China's Military Activities in the East China Sea -- Implications for Japan's Air Self-Defense Force (Santa Monica: Rand Corporation, 2018)
June Teufel Dreyer, "Sino-Japanese Territorial and Maritime Disputes", in Bruce A. Elleman, Stephen Kotkin & Clive Schofield (eds), Beijing's power and China's borders: twenty neighbors in Asia (Armonk: M.E. Sharpe, Inc., 2013), 81-95.
Robert Y. Eng, "The Intractability of the Sino-Japanese Senkaku/Diaoyu Territorial Dispute: Historical Memory, People's Diplomacy and Transnational Activism, 1961-1978", The Asia-Pacific Journal 15:22:2 (2017), 1-77
Peter Hays Gries, Derek Steiger & Tao Wang, "Popular Nationalism and China's Japan Policy: the Diaoyu Islands protests, 2012–2013", Journal of Contemporary China 25:98 (2016), 264-276, https://doi.org/10.1080/10670564.2015.1075714
Koichi Sato, "The Senkaku Islands Dispute: Four Reasons of the Chinese Offensive - A Japanese View", Journal of Contemporary East Asia Studies 8:1 (2019), 50-82, https://doi.org/10.1080/24761028.2019.1626567
Florian Schneider, "China's 'info-web': How Beijing governs online political communication about Japan", new media & society (2015), 1-21, https://doi.org/10.1177/1461444815600379