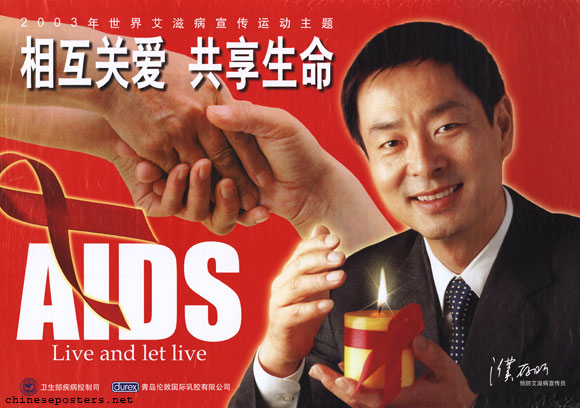 Mutual care and love, share life - Main topic of the 2003 International Aids Movement, 2003
In recent years, a new awareness has emerged in China about the threat that HIV/AIDS poses to the population. Increasing numbers of people are identified as carrying the HIV virus. According to recent official figures (2003), some 840,000 persons have tested positive for HIV, and about ten percent of them have progressed to AIDS. Others, however, insist that the actual number of those infected might be twice as high. Although HIV still is concentrated among intravenous drug users (51 percent) and people who have become infected through unhygienic blood donations in the 1990s (21 percent), the pattern of transmission of the virus is beginning to change. HIV infection by sexual transmission in particular is sharply on the increase, particularly among women. A number of reasons can be identified for this development. First, a general lack of awareness exists in China. Education and information about prevention measures is lacking. Secondly, the number of intravenous drug users, sharing needles, is growing. Thirdly, commercial sex is on the rise in China, while condom use remains low. Other factors include unsafe medical conditions and procedures and inadequate blood safety. The huge numbers of peasants moving to the cities looking for work also pose a serious problem.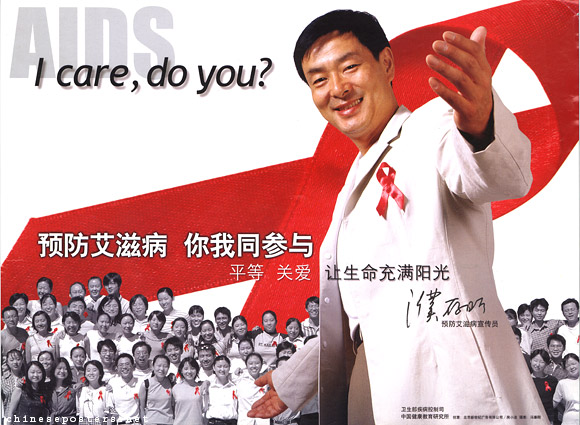 AIDS - I care, do you?, ca. 2003
The SARS in 2003 seems to have made China more aware of the dangers and risks of contagious diseases. Aside from taking various concrete measures to structurally improve prevention, identification and treatment of HIV/AIDS, the government has decided to step up its HIV/AIDS-related educational work. This takes place on a number of levels, ranging from propaganda drives to a widely publicized meeting of Premier Wen Jiabao with HIV-positive patients on 1 December 2003. An example of the HIV/AIDS awareness drive that has been started is the poster above, published as a collaborative project by the Ministry of Health and the Durex Company. It features the movie star Pu Cunxin, who graduated from the Central Academy of Drama and who has appeared in various productions by the Beijing People's Art Theater. Pu has not only endorsed the HIV/AIDS awareness 2003 campaign, but has also supported blood donation drives. Materials like these posters could be seen all over urban China in 2003-2004.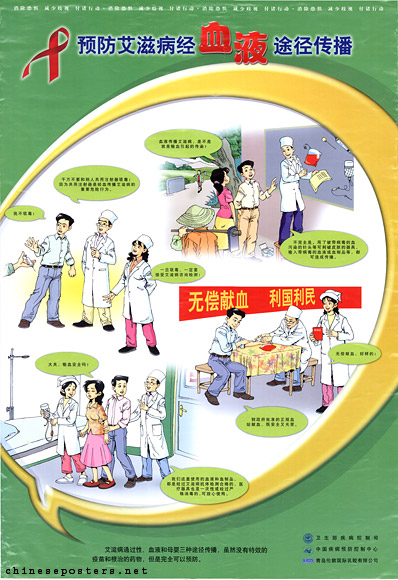 Prevent Aids from spreading through blood, 2003
But Pu's efforts precisely point to one of the main problems of all these educational activities: the majority of the population is not reached. Moreover, many concrete problems in the implementation of the various government initiatives continue to exist.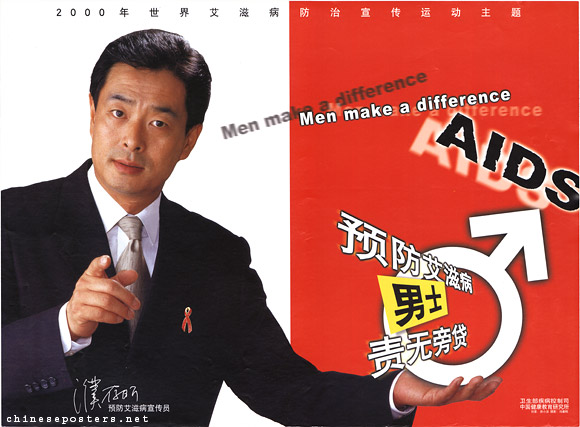 China Ministry of Health & UN Theme Group on HIV/AIDS in China, China Responds to AIDS - HIV/AIDS Situation & Needs Report (November 1997)
Bates Gill, J. Stephen Morrison, Drew Thompson (eds), Defusing China's Time Bomb - Sustaining the Momentum of China's HIV/AIDS Response (Washington: Center for Strategic and International Studies, 2004)
Xiaopei He & Lisa Rofel, "'I Am AIDS': Living with HIV/AIDS in China", positions: east asia cultures critique 18:2 (2010), 511-536
Johanna Hood, "Distancing Disease in the Un-black Han Chinese Politic : Othering Difference in China's HIV/AIDS Media", Modern China 39:3 (2013), 280-318
Joan Kaufman, "Turning Points in China's AIDS Response", CHINA: An International Journal 8:1 (2010), 63–84