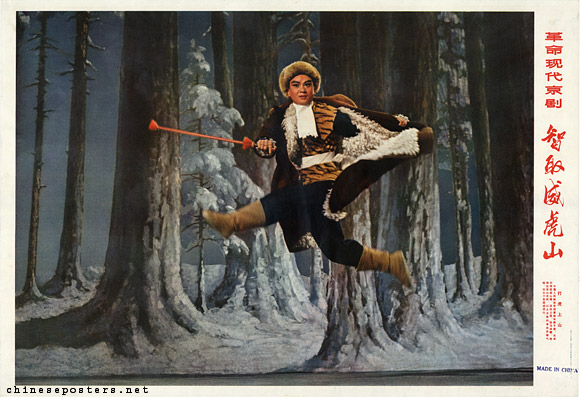 The model work Taking Tiger Mountain by Strategy (智取威虎山, Zhiqu weihushan) was based a novel by Qu Bo, Linhai xueyuan (Tracks in the snowy forest, 1957), which was made into a movie in 1960. The opera only covers part of the book. It is set in Manchuria in 1946 and focusses on the fight between a group of PLA-soldiers and a group of bandits who support the Guomindang who have abducted and killed a number of villagers. The hero is Yang Zirong, a scout platoon leader. Yang is sent by Shao Jianbo, the regimental chief of staff, to infiltrate the bandits' stronghold to find out when and where to attack the bandit chief, Zuo Shandiao, and his gang.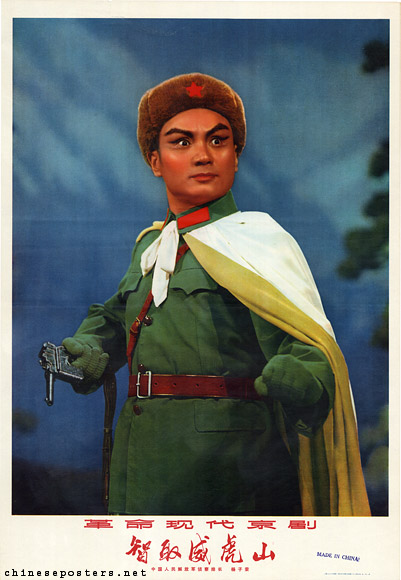 Taking Tiger Mountain was not only popular in China. A set of postcards (this one

?) inspired Brian Eno to record his album Taking Tiger Mountain (By Strategy) in 1974.
Brian Eno: Taking Tiger Mountain (By Strategy)

Sheila Melvin & Jindong Cai, "Nostalgia for the Fruits of Chaos in Chinese Model Operas", The New York Times on the Web, 29 October 2000
Barbara Mittler, A Continuous Revolution -- Making Sense of Cultural Revolution Culture (Cambridge: Harvard University Press, 2013)
John Neilson's Taking Tiger Mountain

Rosemary A. Roberts, Maoist Model Theatre -- The Semiotics of Gender and Sexuality in the Chinese Cultural Revolution (1966-1976) (Leiden: Brill, 2010)
Roxane Witke, Comrade Chiang Ch'ing (London: Weidenfeld and Nicolson, 1977)