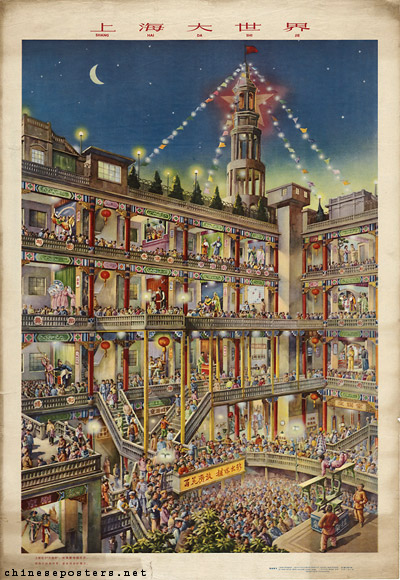 The Great World Entertainment Center (上海大世界) was Shanghai's most famous amusement hall in the 1920s and early 1930s. It was a multi-storied building with scores of rooms for all kinds of performances, gambling, fortune-telling, etc., restaurants, roof gardens, and even a bank (very convenient when gambling). Drugs and prositution abounded. The center received 20.000 visitors daily. The economic crisis and the Japanese occupation halted business.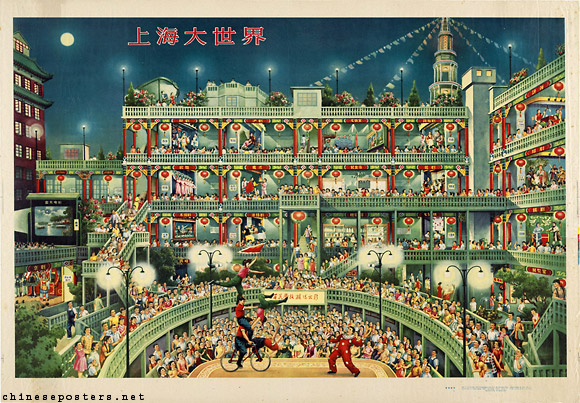 The Great World reopened in 1954. The entertainment now was strictly in line with the puritanical demands of the Party. "The People's Amusement Centre, the former 'Great World', where hooligans, pickpockets and prostitutes were once rife, now provides wholesome entertainment for tens of thousands of visitors every day," a 1958 picture book on Shanghai states. As if to prove that nothing un-wholesome was happening inside, posters were published showing the courtyard with the galleries and the scores of smaller rooms, with everything the Center had to offer. The great specialist of this type of highly detailed representations, Zhang Yuqing, designed three of the four posters shown here.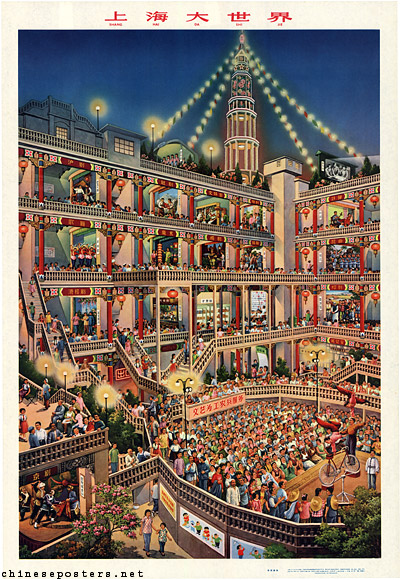 The 1957 poster shows that the Great World offered traditional Chinese entertainment: acrobatics, drama, comedy and music. In 1962 some modernizations have taken place. There is a cinema now, and some fairground attractions. In 1966 practically everything has been politicized. During the Cultural Revolution, the entertainment stopped all together. The Center reopened only in 1987, with a modernized version of the 1962 mixture of 'modern' and traditional Chinese entertainment. After several years, the center closed again, this time 'for restoration'. A few years before the 2010 World Expo, the Great World opened its doors yet again. Besides acrobatics, Chinese folk dancing and Beijing Opera performances, visitors now can enjoy the video arcade, discotheque, karaoke bar and 'European style' bar.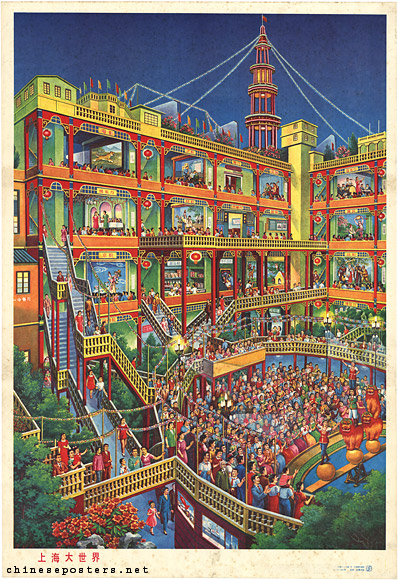 In 2015, the artist Sun Yu (孙宇), graduate of the Experimental Art School of the Central Academy of Fine Arts, Beijing, created a wonderful re-interpretation of the Great World posters, visualizing a present day 'Paradise'.
Shanghai (Shanghai, 1958)
Michael Knight & Dany Chan (eds.), Shanghai. Art of the City (San Francisco, Asian Art Museum, 2010)
Wenming Xiao & Yao Li, "Building a 'Lofty, Beloved People's Amusement Centre': The socialist transformation of Shanghai's Great World (Dashijie) (1950-58)", Modern Asian Studies (2020), 1-42