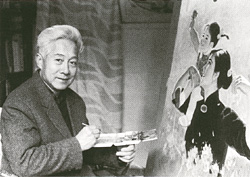 Ha Qiongwen (1925-2012) was born in Beijing. He belonged to the Hui minority. After his graduation from the Fine Arts Department of the Chongqing Central University in 1949, he joined the People's Liberation Army. Ha taught in the Art Department of the East China People's Liberation Army Military University. In 1953, he moved to Beijing and worked in the Cultural Department of the PLA. In the same year, he visited the North Korean war theatre, where he spent time with the Railroad troops of the Chinese Volunteer Army.
In 1955, Ha was transferred to the Shanghai People's Fine Arts Publishing House (Shanghai renmin meishu chubanshe 上海人民美术出版社). By the late 1950s, he and his Shanghai colleague Qian Daxin (钱大昕) were considered the most prolific designers of propaganda posters, producing some of the best remembered works. More than ten million copies of Ha's designs have been released.
During the Cultural Revolution, Ha was attacked as the "Top Celebrity of the Literature and Arts Black Line". Ha's poster design Long live Chairman Mao from 1959 was at the root of his problems: why had he depicted a bourgeois woman instead of a female proletarian? Where was Chairman Mao? Why didn't the poster praise the Chairman more explicitly? Every time the literature and arts world held a criticism meeting, he was dragged out as an object of public abuse. As a result, Ha was publicly beaten and humiliated more than thirty times.
Despite his maltreatment during the Cultural Revolution and a suicide attempt that caused the loss of sight in his right eye, Ha remained active as a poster designer until his retirement in 1992. A number of his propaganda paintings as well as his oil paintings has been included in Chinese museum collections. Ha was married to You Longgu (游龙姑), a fine poster designer who worked for the Shanghai People's Fine Arts Publishing House as well.