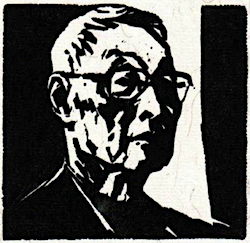 Zhao Yannian (1924-2014) was born in Huzhou, Zhejiang Province. In 1938, he entered the Shanghai Fine Arts Training Institute, where he studied both Western and Chinese art. He graduated from the Department of Fine Arts of the Guangdong Provincial Wartime Art Academy in 1941 and joined the All China Association of Anti-Enemy Woodcut Artists in the same year. He joined the Shanghai People's Fine Arts Publishing House after 1949. In 1950, he began to teach at the Huadong (East China) branch of the Central Academy of Fine Arts in Hangzhou. He lost his post during the Cultural Revolution and resumed his teaching duties in 1972. His innovative use of cutting and printing techniques has influenced several generations of printmakers in China.
Zhao was professor of the Central Academy of Fine Arts, member of the council of the Chinese Artists Association, advisor to the Chinese Transfer Makers Association, and honorary director of the Zhejiang Transfer Makers Association. He cooperated with Yu Yunjie.
Zhao is known for his woodblocks, but may be best remembered for his numerous cartoons, New Year pictures, cartoon strips and propaganda designs. He is renowned for his illustrations of Lu Xun's stories.