改革开放胆子要大一些,敢于试验,不能像小脚女人一样。看准了的,就大胆地试,大胆地闯 - 邓小平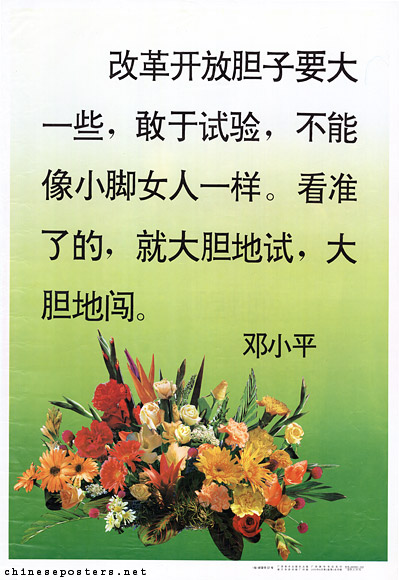 Guangxi meishu chubanshe (广西美术出版社)
Deng Xiaoping is the main architect of the economic reforms. He abolishes the idolization of political leaders; during his lifetime, his portrait appears on posters only very rarely. This Deng-quotation is illustrated with a photograph of a flower arrangement. 
The full quotation, from a speech during Deng's 1992 Southern Tour:
"In the process of reform and opening up, we must be a little more courageous, and we must dare to experiment; we cannot be like women with bound feet. If it looks acceptable, we must courageously experiment, courageously charge - Deng Xiaoping"