革命大本营奠基西北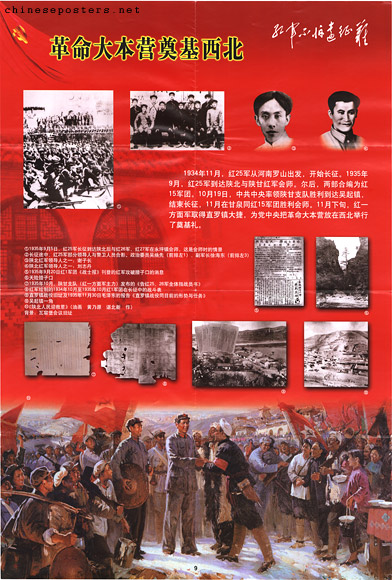 The poster illustrates the vagaries of dispersed sections of the Red Army fighting their way to the Northwest, and the joining of the various forces in Northwest Shaanxi. Inserts of 25th and 26th Armies; of Xie Zichang and Liu Zhidan, local leaders who lost their positions after the national leaders of the revolution arrived (Liu Zhidan was an alumnus of the Whampoa Military Academy; Gao Gang was the political commissar of his forces); news in the Warrior Daily (Zhanshibao, 战士报) about the victory at Lazikou. At the bottom, an oil painting by Huang Naiyuan and others, entitled "The people of Northwest Shaanxi welcome the savior".
Nr. 9 of the Long March of the Red Army Poster set.
Browse the set: 1 | 2 | 3 | 4 | 5 | 6 | 7 | 8 | 9 | 10 | 11 | 12.
Sources:
David Apter & Tony Saich, Revolutionary Discourse in Mao's Republic (Cambridge: Harvard University Press, 1994)