南方三年游击战争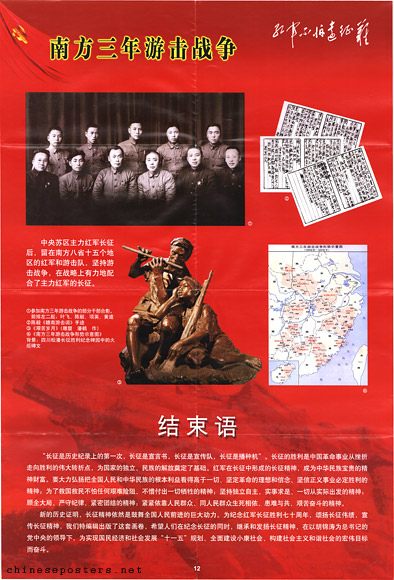 The last poster in the series devotes attention to the exploits of the CCP/Red Army forces that stayed behind in the South and covered the main troops' trek to the Northwest, as represented in the map. The photograph shows, i.a., Chen Yi, Ye Fei and Huang Dao. A sculpture by Pan He, entitled "Years of Hardship".
In the postscript at the bottom of the poster, the 70th commemoration of the Long March is used to sum up historical lessons. Moreover, the relevance of the "Long March Spirit" for realizing the goals and ambitions of the current period of modernization and reform are pointed out. Thus, the past and present are linked up.
Nr. 12 of the Long March of the Red Army Poster set.
Browse the set: 1 | 2 | 3 | 4 | 5 | 6 | 7 | 8 | 9 | 10 | 11 | 12.