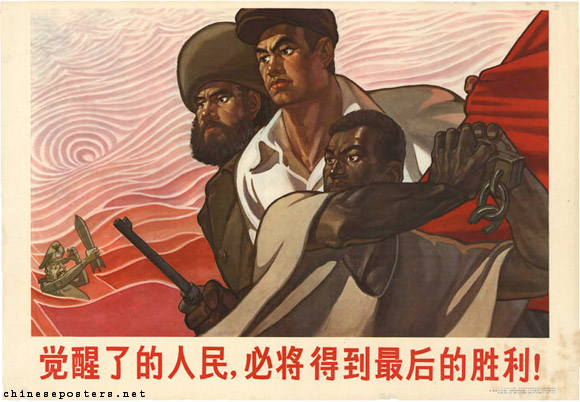 Awakened peoples, you will certainly attain the ultimate victory!, 1963
Shortly before and in particular during the Cultural Revolution, (American) imperialism and (Soviet) revisionism both were criticised severely. As the self-styled leader of newly independent and developing nations, the so-called Third World, China supported many struggles in Asia, Africa and Latin America. These struggles were seen as part of a global movement in which "the countryside" (i.e., the peripheral states of the Third World) would rise against and conquer "the cities" (the countries of the developed and industrialized Second and First Worlds). The similarities with the CCP's own struggles during the Yan'an era were obvious.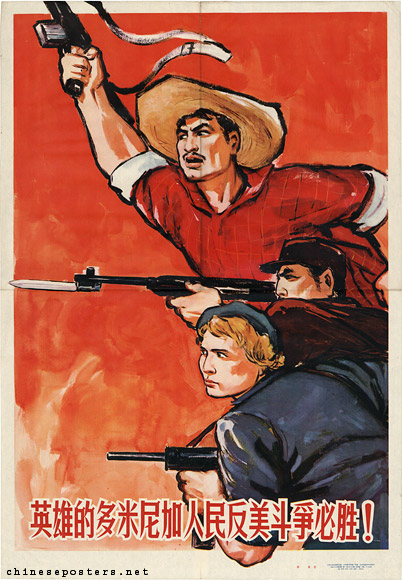 The struggle of the brave Dominican people against America must be victorious!, 1965
Given China's own level of development, support for the friendly nations and political/revolutionary parties in Asia, Africa and Latin America, as was stated time and again, could only be symbolical. The support was demonstrated, i.a., in various posters, making it the most internationally oriented period in Chinese propaganda when the country itself was at the height of xenophobia.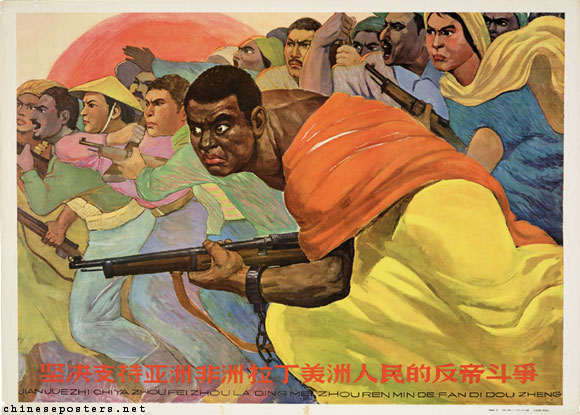 Vigorously support the anti-imperialist struggles of the peoples of Asia, Africa and Latin America, ca. 1964
Matthew D. Johnson, "From Peace to the Panthers: PRC Engagement with African-American Transnational Networks, 1949–1979", Past and Present, Supplement 8 (2013), 233-257
Robin D. G. Kelley & Betsy Esch, "Black like Mao: Red China and Black Revolution," Souls: A Critical Journal of Black Politics, Culture 1:4 (1999): 6-41
William E. Ratliff, "Chinese Communist Cultural Diplomacy toward Latin America, 1949-1960", The Hispanic American Historical Review 49:1 (1969), 53-79
Zhenxing Zhu, "Pilgrimage for Revolutionary Spirit -- African American Activists, the People's Republic of China, and the Chinese American Leftists in the Cold War Civil Rights Era", Doshisha American Studies 54 (2018), 21-49