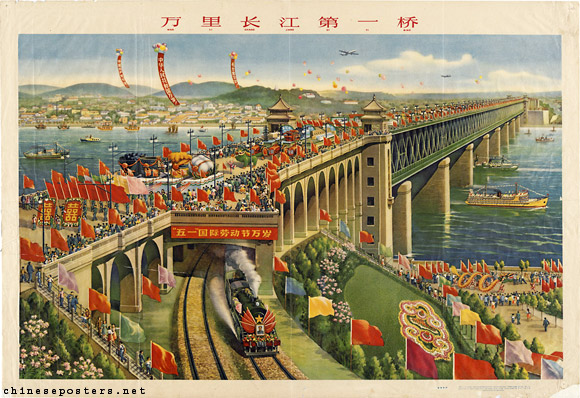 The first bridge over the ten thousand 'li' long Yangzi, 1960
When the First Five Year Plan to develop China's economy was launched in 1953, the infrastructure of roads, railways and bridges was very defective. There was for instance not a single bridge over China's longest river, the Yangzi (Yangtse, Chang Jiang 长江 or 'Long River'). There were no direct road or train connections between Beijing in the North and Guangzhou (Canton) or Shanghai in the South. Everyone and everything had to be taken across the river on ferries.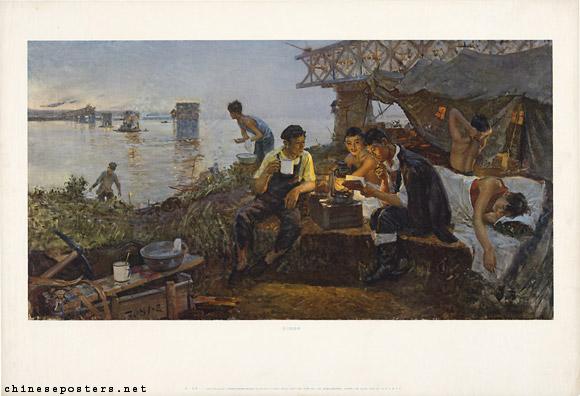 Construction of the first bridge across the Yangzi in Wuhan started in September 1955. This would open up the route between Beijing and Guangzhou. It was a double decker, with a road above and a railway below, consisting of nine 128 meter steel spans, resting on pillars going down 40 meters below water level. The bridge opened for traffic in October 1957 - supposedly two years ahead of schedule. Engineers from the Soviet Union advised on the project.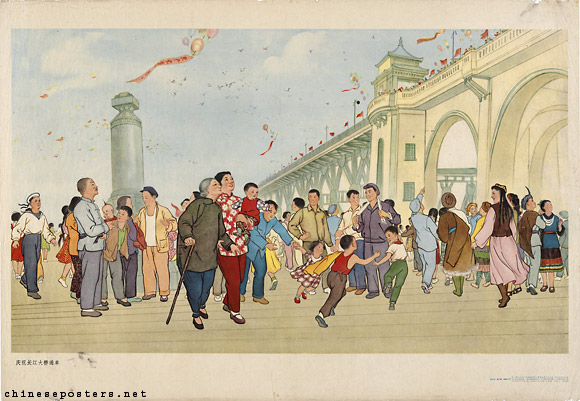 Celebrate the opening of the big bridge across the Yangzi, 1958
When the bridge was still under construction, Mao Zedong made a reference to it in one of his poems:
Sails move with the wind.
Tortoise and Snake are still.
Great plans are afoot:
A bridge will fly to span the north and south,
Turning a deep chasm into a thoroughfare.
Not long after the opening of the Wuhan bridge, the decision was taken to build a second bridge over the Yangzi, near Nanjing. This was to become a showpiece for Maoist ideology, where the Wuhan bridge was more a matter of national pride.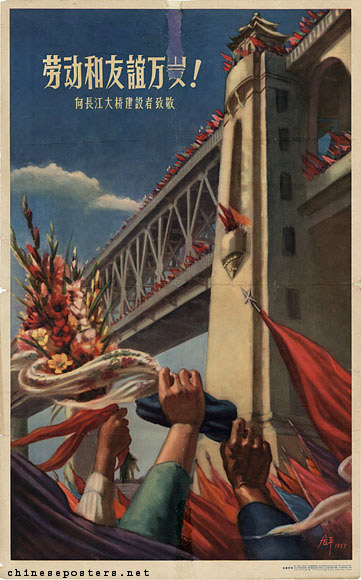 Long live labor and friendship! Paying respects to the builders of the great Yangzi bridge, 1957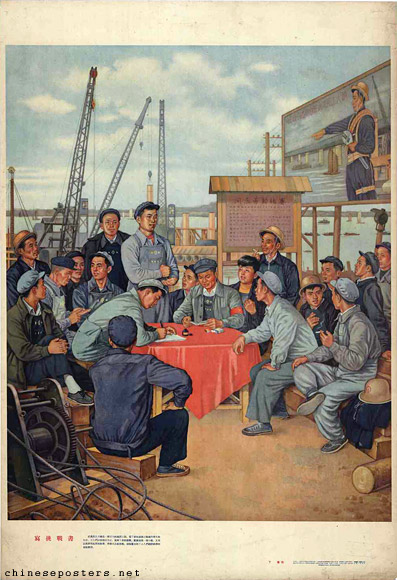 Mao Yi-sheng, Bridges in China, Old and New. From the Ancient Chaochow Bridge to the Modern Nanking Bridge over the Yangtze (Beijing, Foreign Languages Press, 1978)
Wuhan In Construction (Beijing, Foreign Languages Press, 1959)