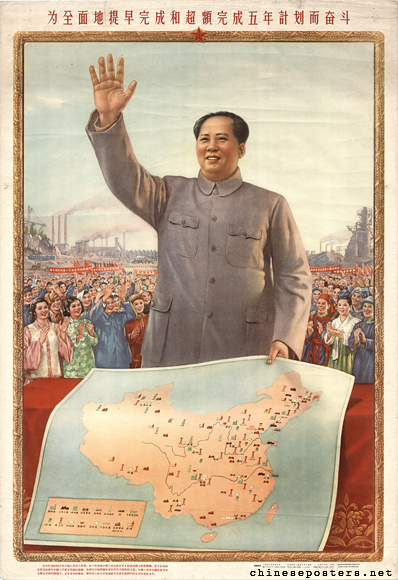 Once the PRC was established in 1949, it took about two years to start the economic rehabilitation of the nation and to bring the economy under central control. With embryonic government agencies in place to start the process of central planning, by and large inspired by the Soviet Union, a first Five Year Plan (五年计划, Wunian Jihua) for the development of the economy was designed for the period 1953-1957. Focusing largely on the creation of an industrial base, and mainly heavy industry at that, agriculture had to generate a surplus to enable that creation while consumption was to take last place. In the process of unfolding, the Five Year Plan was reformulated time and again, partially as well the result of a planning structure that was becoming more and more able to tinker with plans that guided all economic activity on a nation-wide scale. The plan was only formally adopted in 1955.
This may be the reason that a set of educational materials, designed to explain the Plan and mobilize the population to support it, was only published in 1956, well after the start of the whole undertaking and almost too late to see the end of the plan for which it was designed. The series comprehensively explains the workings of the various economic sectors, the amount of input needed to realize the goals, as well as the specific increases that will result from adhering to the plan. At the same time, maybe unwittingly, the series illustrates everything that has not been accomplished yet, thereby putting into perspective the effects of other, earlier campaigns. The calls for the eradication of counterrevolutionaries, for example, only addressed towards the end of the plan, serve as a good illustration.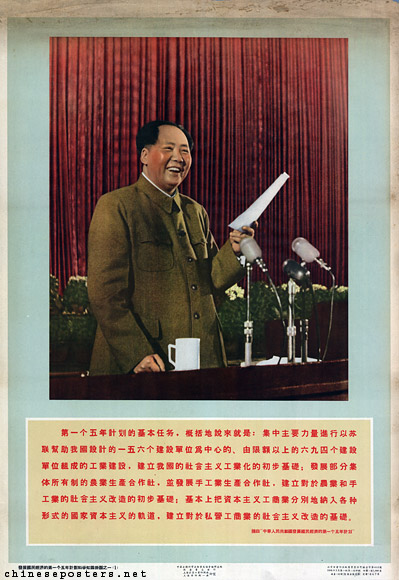 The series opens with a so-called 'head', showing Mao and part of the text of the decision to adopt the Plan. On the next poster, the larger issues at stake are explained, in particular what the input of the various economic sectors will amount to in terms of the accumulation of national wealth.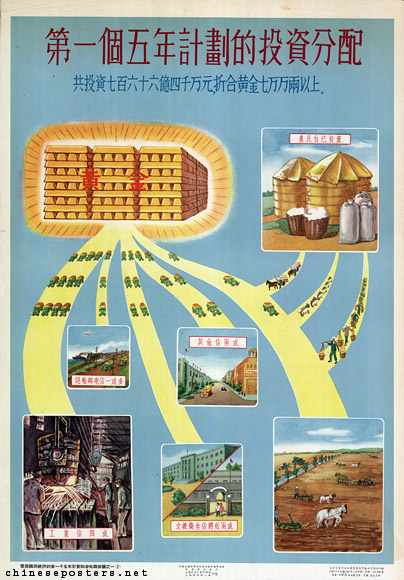 Industry or its construction, obviously, is paramount in the plan. The spatial dimensions of the creation or expansion of existing major plants in energy, steel, chemistry, shipbuilding, railroad construction, etc. is provided in the sheet below. But the rest of the series is characterized by the introduction of an interesting hierarchy in the planned economic activity.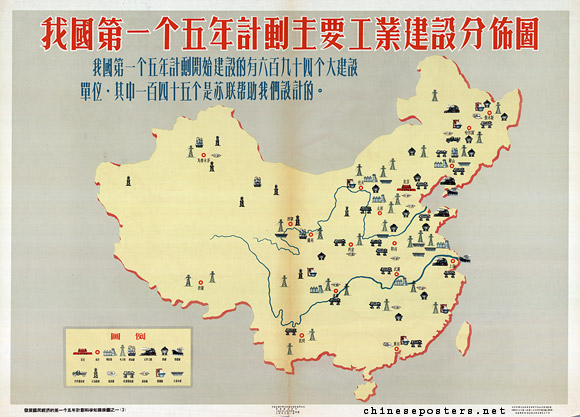 This hierarchy is introduced straight away with the poster below, indicating that the steel industry lies at the basis of all industry. However, as the next poster informs us, electrity moves all industry forward. And for those of the spectators who might not know what steel and/or industry are used for, convenient examples are provided.