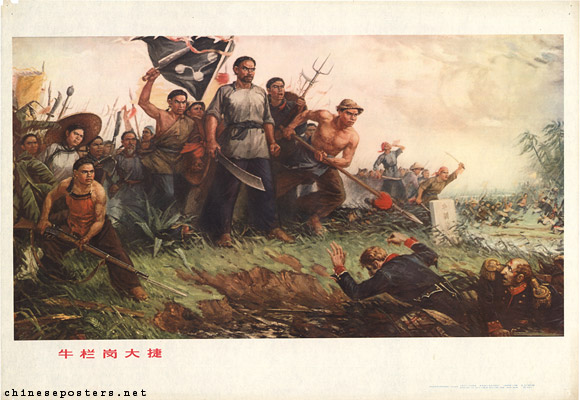 Great victory at Niulan Hill, 1975
The Battle of Sanyuanli, on 30-31 May 1841, is seen as the first time in modern history that the Chinese people stood up against foreign imperialism and aggression. That is the way it is framed in Chinese historical discourse and official remembrance. It was a skirmish that took place after the formal conclusion of the First Opium War.
On 30 May 1841 (and not 1851, as the poster from the memorial museum states), some 10,000 village militia men from Sanyuanli (三元里), Guangdong Province, confronted a much smaller column of British soldiers at Niulan Hill. The rape of local women, the destruction of temples and tombs and the looting of food supplies, clothing and valuables had aroused their anger. Opposing superior firepower with swords, pikes and knives, the Chinese militia succeeded in killing four opponents and wounding twenty others, sustaining 30-50 casualties, according to Chinese sources; according to British accounts, one private was killed, while one officer and 14 men were injured.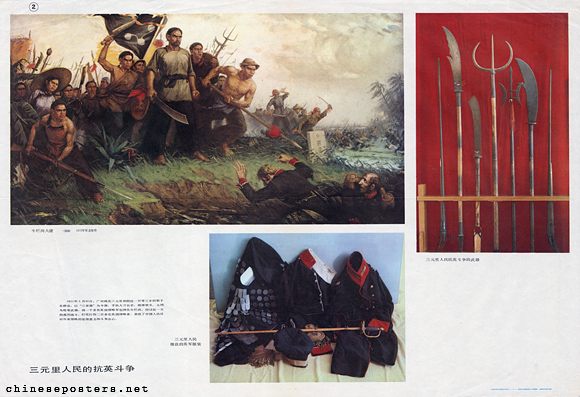 The struggle of the people of Sanyuanli against the British, 1972
As a battle, it did not change the course of history, but it did lead to a local propaganda war, in which the Chinese side warned that it would strike again. The British side later also realized that it should have acted more decisively. In Chinese revolutionary mythology, it turned into a major engagement. The Guangzhou Provincial Government erected a small memorial at Niulan Hill, near Baiyun International Airport (Guangzhou), in 1991.
'Sanyuanli Anti-British struggle', http://www.guangzhou.chn.info/overview/history/historical-events/sanyuanli-anti-british-struggle.html (2010)
Kaori Abe, 'The Anglo-Chinese propaganda battles: British, Qing and Cantonese intellectuals and the first opium war in Canton', Journal of the Royal Asiatic Society Hong Kong Branch, Vol. 56, 2016, pp. 172-193
Robert Bickers, The Scramble for China – Foreign Devils in the Qing Empire, 1832-1914 (London: Allen Lane, 2011)