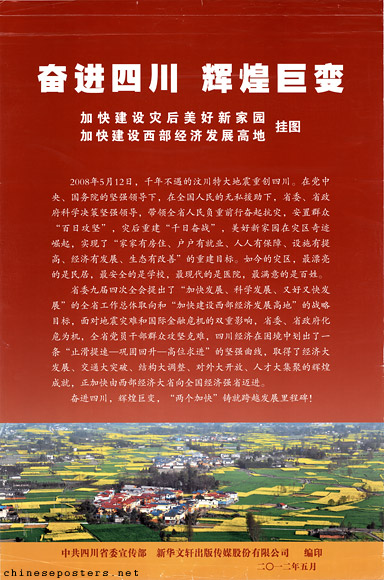 Struggling for Sichuan Glorious changes, 2012
On 12 May 2008, a devastating earthquake measuring 7.9 on the Richter scale occurred in Wenchuan (汶川), Sichuan province. The earthquake created global sympathy and support for China and allowed it to assume the mantle of victimhood. Preceding the disaster, in the run-up to the 2008 Beijing Olympic Games, China had come under fierce Western criticism over its human rights record, support for the regime in Darfur, alleged oppression of Tibet and the exploitative treatment of its migrant workers. This catastrophe offered many opportunities to concretely define and develop the Harmonious Society in line with what Hu Jintao and the government had in mind. It gave representatives from the Chinese political and party leadership and government the opportunity to show they were truly concerned. President Hu showed much appreciated determination when he immediately called for an all-out effort to save people's lives. Premier Wen Jiabao boarded a plane to the area within two hours after the disaster struck to personally lead the disaster relief.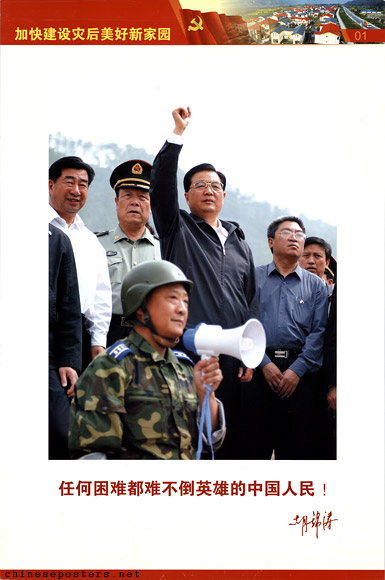 Struggling for Sichuan Glorious changes, 2012
In the week following the quake, various aspects of the salvage and relief work were harnessed in the service of the harmonious society. The emergence of spontaneous grass-roots organizations to undertake relief work and organize support networks and activities in particular was seen as a positive indication that a more caring society was taking shape.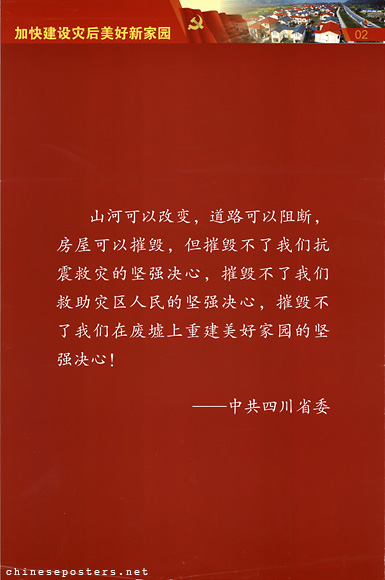 Struggling for Sichuan Glorious changes, 2012
As far as can be retraced, no official propaganda posters were issued following the quake, although many public service advertisements were broadcast on television. Some of the more forceful ones were actually produced by commercial entities. Yet, the creative energies of designers, both professionals and amateurs, were mobilised in a national movement. Supported by the Chinese Red Cross, Sina.com, Getty Images and other relevant organizations, on 12 June 2008 the "2008 'We are Together' Global Chinese Designer Earthquake Relief themed Great Charity Poster Design Assembly" (2008我们在一起全球华人设计师抗震救灾公益海报征集活动) was set up. The Assembly provided information and materials for public service advertisements and for various exhibitions to keep the population mobilized for earthquake relief. The website that was created at the time to exhibit the thousands of designs (http://together.chinavisual.com/) unfortunately is no longer accessible.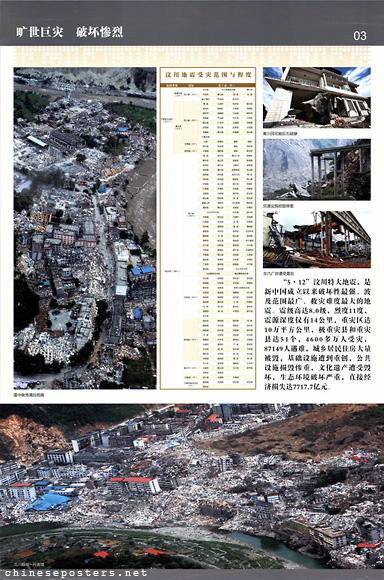 Struggling for Sichuan Glorious changes, 2012
Only in 2012, a series of posters was published by the Propaganda Department of the Sichuan Provincial Communist Party Committee to chronicle the efforts that had been expended in rebuilding the area.
Jeroen de Kloet, Gladys Pak Lei Chong, Liu Wei, 'The Beijing Olympics and the Art of Nation-State Maintenance', China aktuell 2 (2008), 5-35
Florian Schneider & Yih-Jye Hwang, 'The Sichuan Earthquake and the Heavenly Mandate: legitimizing Chinese rule through disaster discourse', Journal of Contemporary China (2014), 1-21
Shawn Shieh & Guosheng Deng, 'An Emerging Civil Society: The Impact of the 2008 Sichuan Earthquake on Grass-Roots Associations in China', The China Journal 65 (2011), 181-194