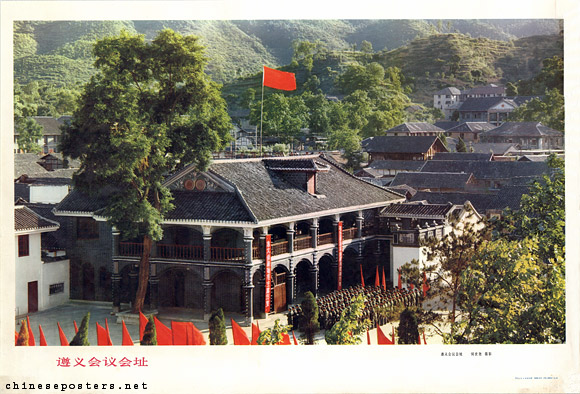 In January 1935, in the midst of the Long March, the Zunyi Conference took place in a two-storey wood and brick building of combined Chinese and Western architectural styles located at No.80, Hongqi Road in the old town of Zunyi (遵义), Guizhou Province. The place was formerly known as Pipa Bridge. The meeting exposed and criticized the military mistakes of CCP leaders. Mao Zedong was elected a member of the Political Bureau and in doing so, the Conference ended the "left" opportunist line of Wang Ming (who had the support of Comintern agent Otto Braun) that prevailed at the time. The meeting was a turning point in the history of the CCP. The roll call of the meeting reads like a who's who of significant leaders: amongst those present were Zhou Enlai, Zhu De, Lin Biao, Chen Yun, Deng Xiaoping, Yang Shangkun, Liu Bocheng, Wang Jiaxiang, Peng Dehuai, and Nie Rongzhen.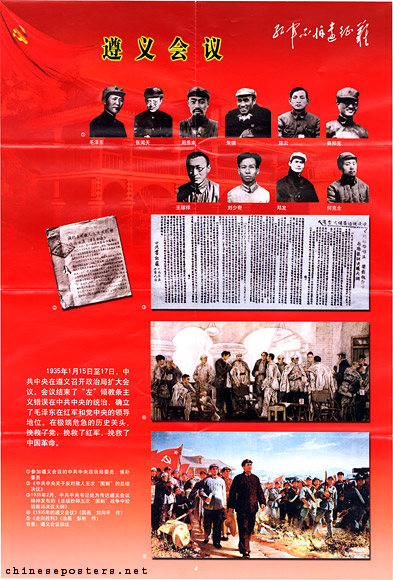 The places where the Long March had passed through provided great drawing power for Red Guards who gave heed to Mao Zedong's call to share their revolutionary experiences with others. In the period of revolutionary networking (chuanlian 串联) which lasted from August 1966 until March 1967, many youngsters considered themselves to be on a Long March of their own, and Zunyi was one of the "Memorial Places of Revolutionary History", which also included Shaoshan (Mao's birth place), Jinggangshan (the cradle of the Communist Party), Luding Bridge (where a heroic crossing over the Dadu River took place), and Yan'an.
Listed as a major cultural relic site under state protection, the building now houses the Zunyi Conference Memorial Museum. The slogans written at the time have been preserved.
James Carter, "Zunyi: The three-day meeting that pushed the CCP toward Mao", SupChina, 12 January 2022