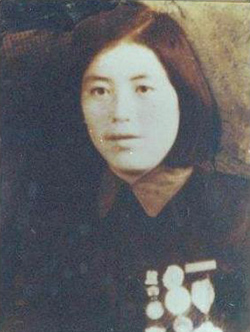 Zhao Guilan (赵桂兰, 1930) was born in a poor peasant family in Anqiu County, Shandong Province. From the age of 11, she worked as a child laborer in an apple orchard and the Liaodong Textile Factory under the jurisdiction of the Japanese. In February 1946, she participated in revolutionary work in the Dalian Guoguang Factory, where she was tasked with chemical configuration. She didn't go to school and didn't have much literacy. It was very difficult to remember the names and symbols of the chemicals, but she studied hard and practiced, and not only quickly became familiar with the chemicals, but also learned various formulas. 
On 19 December 19 1949, after the whistle to end the shift rang, the workers all walked out of the factory gate. Zhao Guilan took 100 grams of mercury and prepared to send it to the configuration room for storage. When she was only twenty steps away from the studio, she suddenly felt a violent dizziness, her eyes went dark, and she collapsed. She knew that the front configuration room was filled with flammable and explosive drugs, and there was a warehouse nearby. If lightning struck, it would explode, and the entire workshop and factory might be destroyed. In order to protect the country's property, she put her personal life aside and let herself be struck by lightning. The workshop was saved and the factory was saved, but she was blown to pieces. Her left lower arm was blown up, the right arm was broken, and she had multiple serious injuries to the head and body. 
After hearing the sound, the workers rushed her to the hospital. In 1950, he was named a national model worker and attended the National Congress of Heroes and Models of Workers, Peasants and Soldiers. In the same year, she participated in the second meeting of the first CPPCC National Committee, met Chairman Mao Zedong, Zhou Enlai and Liu Shaoqi. She said at the meeting: "Although I am disabled, my mind is not crippled, and I still want to serve the people as before." Since then, she has made it her lifelong pursuit of being a good daughter of the party.
In September 1957, Zhao Guilan was sent to the Department of Law of Jilin University to study. After graduation, she was assigned to the Xigang District Court of Dalian City as a trial assistant. In July 1962, she was transferred to the Civil Affairs Section of Xigang District. In January 1986, she retired from the Petition Office in Xigang District. After retiring, she spent most of her time participating in activities to care for the next generation and to educate young people about patriotism and tradition.