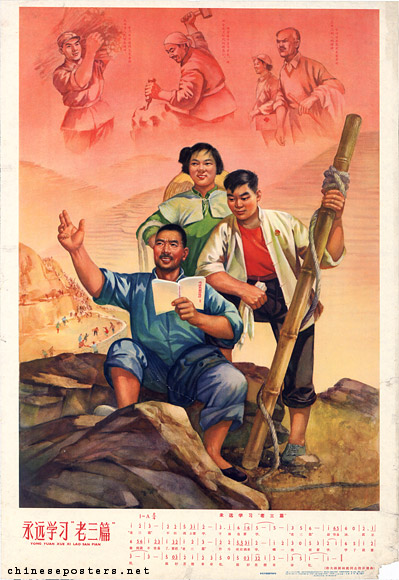 The "Three Constantly Read Articles", or "Three Old Articles" (老三篇, lao san pian) were early political essays written by Mao Zedong before 1949. They were entitled In Memory of Norman Bethune, dedicated to Norman Bethune; Serve the People, written in memory of Zhang Side; and The Foolish Old Man Who Removed the Mountains. The articles, said to represent the essence of Mao's ideology, extolled selflessness, hard work and internationalism.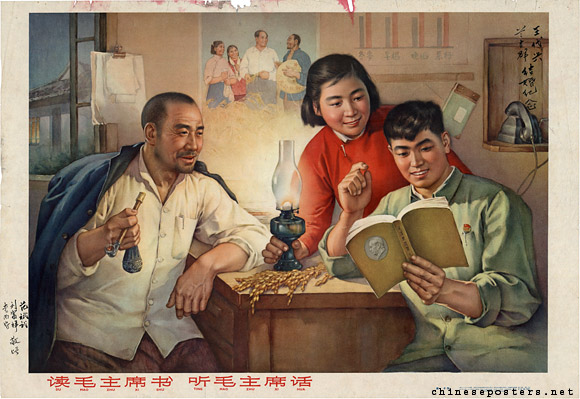 In the early 1960s, the contents of The Foolish Old Man, although written in 1939, were seen as a theoretical underpinning for the type of self-reliance and faith in the ability of the masses to accomplish any task, no matter how difficult, as exemplified by the model commune of Dazhai. After Lin Biao had become minister of defence in 1959, he suggested that the People's Liberation Army should study these articles, as they provided ideological guidance throughout the revolution. As such, the articles preceded Mao's Quotations, collected in the Little Red Book, as a repository of correct ideological concepts. According to Lin, studying Mao Zedong Thought was equal to studying Marxism-Leninism, or even could be seen as a shortcut.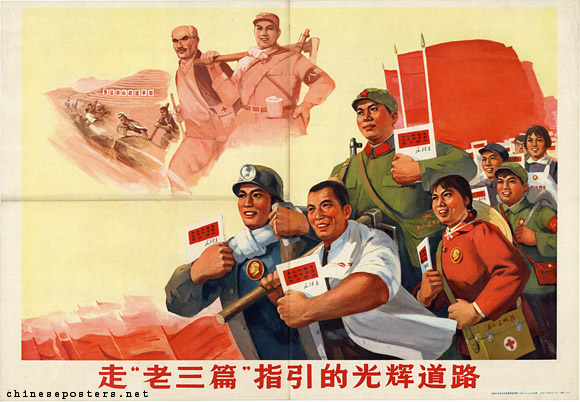 In 1966, the CCP decreed that all primary school students had to study Mao's works. Classes 1-3 had to read Mao's Quotations, and classes 4-6 were to study the "Three Articles". Moreover, politicial study and language study were combined, using Mao's writings as course materials. Once the Cultural Revolution took off, the study of the "Three Articles" was made compulsory for everyone. Many recited the complete texts, and even illiterates could memorize key sections. The poster below shows the "Three Articles" as separate texts, made available for study by the peasantry.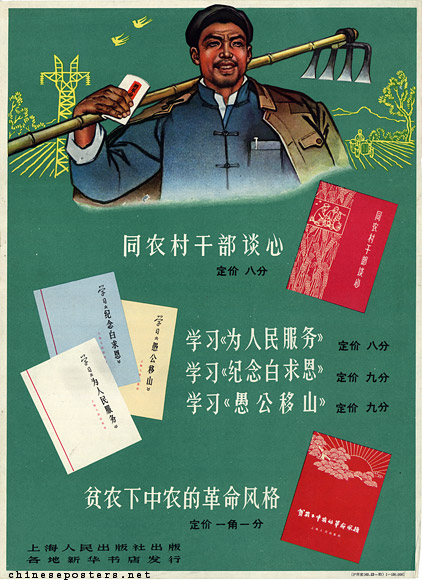 Both the "Three Articles" and the Quotations were part of a vulgarization of Mao Thought that contributed to the quotation mania that gripped China during the Cultural Revolution.
Guo Jian, Yongyi Song & Yuan Zhou, Historical Dictionary of the Chinese Cultural Revolution (Lanham: The Scarecrow Press, Inc., 2006)
Kwok-sing Li (editor) & Mary Lok (translator), A Glossary of Political Terms of the People's Republic of China (Hong Kong: The Chinese University Press, 1995)
Helmut Martin, Cult & Canon - The Origins and Development of State Maoism (Armonk: M.E. Sharpe Inc., 1982)
Peter J. Seybolt, Throwing the Emperor from His Horse - Portrait of a Village Leader in China, 1923-1995 (Boulder: Westview Press, 1996)