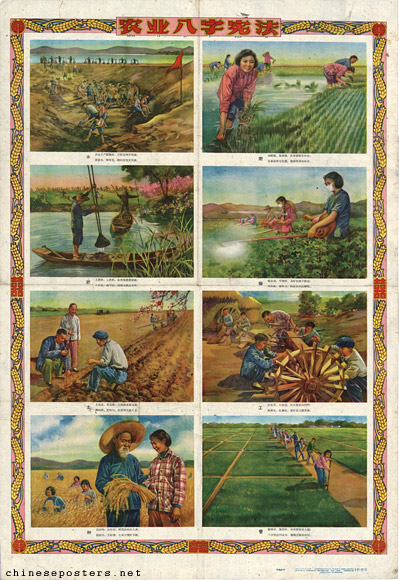 Eight-Point Charter of Agriculture, 1959
In the 1950s, the Chinese government proposed various methods to improve agricultural production. According to the official decision of January 1956, twelve measures needed to be taken to increase production. These consisted of: building up irrigation; increasing the application of fertilizer; improving old-style tools and developing new tools; promoting superior seed strains; expanding multiple-cropping areas; producing more high-yield crops; practicing intensive cultivation and improving farming methods; improving soil; conserving water and soil; protecting and propagating farm animals; eliminating pests and plant diseases; reclaiming wasteland and increasing the farming area.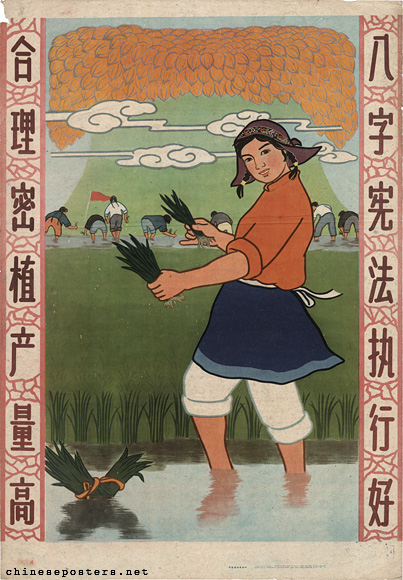 Rational close planting, high yield. Implement the Eight-Point Charter well, 1959
According to Mao Zedong, these measures could be condensed in eight words: tu, fei, shui, zhong, mi, bao, guan, gong (soil improvement, fertilizer application, water conservancy, seed-strain improvement, close planting, plant protection, field management and tool reform). As a result, the Eight-Point Charter of Agriculture (ba zi xianfa, 八字宪法) was drawn up in 1958. Judging by the poster below, published in 1974, the measures were still considered relevant in the 1970s.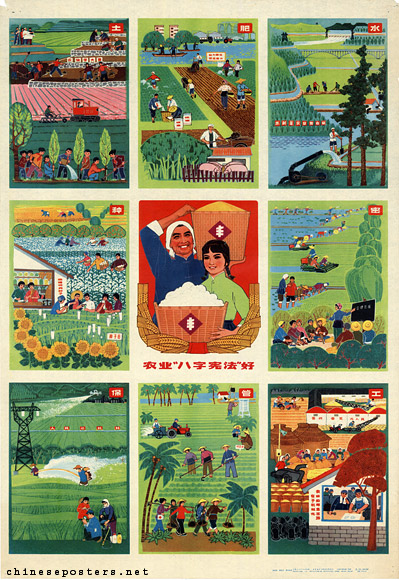 Kwok-sing Li (editor) & Mary Lok (translator), A Glossary of Political Terms of the People's Republic of China (Hong Kong: The Chinese University Press 1995)