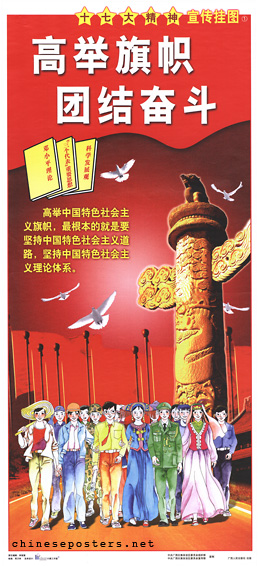 The 17th CCP Congress took place in Beijing from 15-21 October 2007, less than a year before the Beijing Olympics started. It was the first Congress presided over by Hu Jintao.
Hu opened the Congress reading out a political report extolling the accomplishments over the past five years and noting problems that still needed to be addressed. The two-and-half-hour report reaffirmed that the focus of Party work would continue to be to "build a well-off society (xiao kang she hui 小康社会) in an all-round way"; to construct a "harmonious society (和谐社会)"; and to adhere to the "scientific development concept". The latter includes an emphasis on issues that would improve "people's livelihood", including employment, health, national education, renewable energy resources, and environmental quality. The Congress decided at its closing session to enshrine the "scientific development" doctrine, one of Hu's core ideas, in an amendment to the Party Constitution, thus elevating this doctrine to the same level of importance as Mao Zedong Thought, Deng Xiaoping Theory and Jiang Zemin's "Three Represents".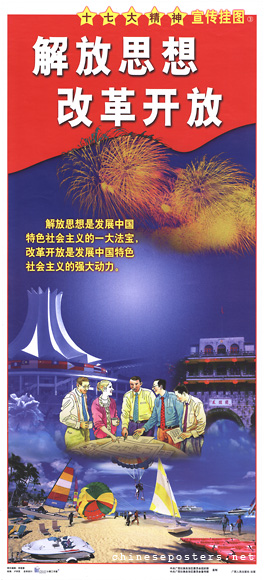 The Congress moreover selected two potential rival candidates, Xi Jinping and Li Keqiang, with differing philosophies (rather than one designated successor-in-waiting) as possibilities to succeed to the top Party positions after the end of Hu's (and Wen Jiabao's) two terms in office. Xi, ranked slightly higher, considered a "princeling" representing the generations of revolutionary successors and thus someone with elite personal connections, was slated for the general secretaryship; while Li, a protege of Hu's, was seen as the next prime minister. Neither of the two "heirs apparent" were made members of the Central Military Commission. On a side note, two noteworthy members were added to the Politburo Standing Committee. One was Bo Xilai, who would be vanquished in the final leadership struggle with Xi in 2012. And the other, an ally of Xi Jinping, was Wang Qishan. At the time, Wang was mayor of Beijing and completely involved in the preparations for the Beijing Olympics.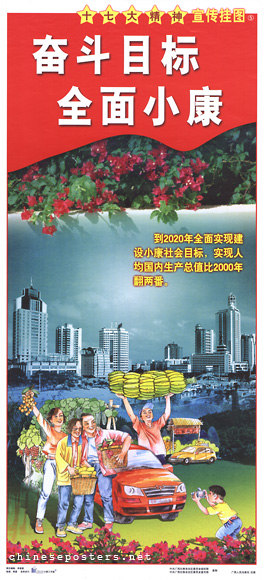 According to numerous reports at the time, the event was a rather lacklustre affair, very much in line with Hu's rather aloof personal style. Not surprisingly, the preparations for the sessions, nor the Congress itself, were made the topics of sustained propaganda poster campaigns. The only exception that is present in the Amsterdam collections is a 10-poster set from 2007.
Kerry Dumbaugh, "China's 17th Communist Party Congress, 2007: Leadership and Policy Implications", CRS Report for Congress, 5 December 2007
Alice Miller, "Beijing Prepares to Convene the 17th Party Congress", China Leadership Monitor 22 (2007), 1-15