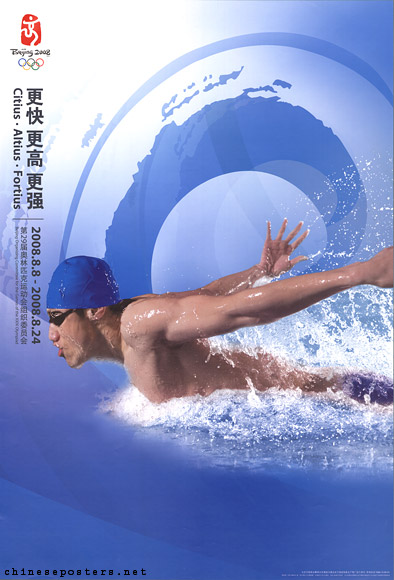 In July 2008 the official posters for the 2008 Olympics were published. There are three series: "Theme Posters" (three posters), "People's Posters" (three posters), and "Sports Posters" (ten posters). A series of 16 posters for the Paralympics was published at the same time. Earlier in 2008, a series of posters was published to promote Olympic security.
At the press conference where the posters were first presented, Zhao Meng, art director of the look and image of the Beijing 2008 Olympic Games, "spoke about the design concept and creation procedure of the official posters. He indicated that designers kept the ideas of a "Green Olympics, High-tech Olympics and People's Olympics" in mind when creating the images, while embodying the philosophy of "One World One Dream." He also emphasized that artists wanted to bring out elements of Chinese culture and the passion felt by the Chinese about having the honor of hosting the international event."
Theme Posters: 'Sophisticated Beijing for a harmonious Olympic Games'
Zhao Meng: "This design has employed the style of traditional Chinese painting to highlight the emblem of the Beijing 2008 Olympic Games. On both sides of the posters, we have the image of the Olympic venues and the classic landmarks. This unique style ensures the consistency and also highlights the consistency between sport and culture and the harmony of Olympic Games and China."
People's Posters: 'Smiling Beijing and inclusive Olympic Games'
Zhao Meng: "The smiling faces of the kids, the young people and the elderly, highlight the passion and fraternity of Chinese people to demonstrate that Beijing reaches out to the whole world. This is the classic edition of the philosophy of 'One World One Dream."
Sports Posters: 'Robust Beijing to exceed the dreams'
Zhao Meng: "We have some shared themes and features for the posters of the Olympic and Paralympic Games. The design combines the image of the athletes and symbol of events against the background of the colored line to depict the whole design of Chinese appeal."
The posters are the end product of a long process. Designs by 71 different institutes and studios were selected in four rounds. Among the organizations involved in the selection process were Tsinghua University, the China Academy of Art and Design, the Hong Kong Artist Association, the Shenzhen Graphic and Design Association, the China Artist Association and (of course) the International Olympic Committee and the Beijing Organization Committe Olympic Games. The photographs used on the posters were provided by the Getty Images China Holding Company.
'Beijing 2008 Olympic Games posters available July 20', http://en.beijing2008.cn/news/official/n214461852.shtml

, 18-07-2008