David Alan Grier, The Book of David - Chairman Miaow - Shepard Fairey, Molotov Man - Chinese Restaurant, Toronto - The Economist - nickcalyx's Desktop - The Sydney Recreational Flying Club - Law & Order - New photographs with old slogans - Time Lapse in Beijing - Ever/Siempre's mural painting
Over the years, our posters have been used in many different ways: for exhibitions, as illustrations in books and periodicals, or to be shown on websites, blogs, social media.
Here we would like to give you just a few examples of less obvious cases. If you know other examples, please let us know!
---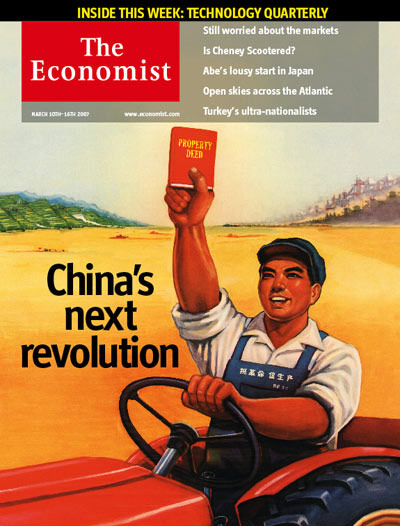 For a cover image illustrating an article on China's new economy, the magazine The Economist used a poster from our collection. The original is from 1969-1970, titled 'Support Argiculture Energetically', published by the Revolutionary Committee of the Cultural Section of the Revolutionary Committee of Shenyang City (call number BG E13/833). In the original, the red book is - of course - a Little Red Book. On the cover of The Economist, the book title has been changed to 'Property Deed'. The cover is of the American edition, vol 382, no. 8519 (March 10, 2007).