David Alan Grier, The Book of David - Chairman Miaow - Shepard Fairey, Molotov Man - Chinese Restaurant, Toronto - The Economist - nickcalyx's Desktop - The Sydney Recreational Flying Club - Law & Order - New photographs with old slogans - Time Lapse in Beijing - Ever/Siempre's mural painting
Over the years, our posters have been used in many different ways: for exhibitions, as illustrations in books and periodicals, or to be shown on websites, blogs, social media.
Here we would like to give you just a few examples of less obvious cases. If you know other examples, please let us know!
---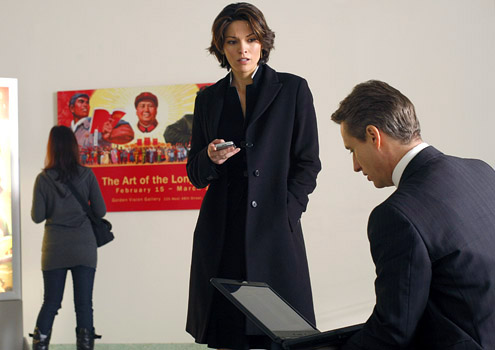 'Take-Out', an episode of the American TV crime series 'Law & Order', first broadcasted in the USA on 18 March 2009, starts when a man is found murdered in a park. At his last known address, detectives find Chinese books and a napkin from the (fictional) Sino-American Institute. They head for this institute, where an where an exhibition called 'The Art of the Long March' is being held. Reprints of posters from our collection were used to create this exhibition.
In the picture above, Assistant District Attorneys Connie Rubirosa (played by Alana De La Garza) and Michael Cutter (played by Linus Roache) visit the Institute. In the background, a poster announcing the exhibition can be seen.
The storyline of the episode can be found at http://allthingslawandorder.blogspot.com/2009/03/law-order-take-out-full-menu-recap-and.html. The picture was taken from http://lawandorder.wikia.com/wiki/File:Cutter_Rubirosa_Take-Out.jpg.