David Alan Grier, The Book of David - Chairman Miaow - Shepard Fairey, Molotov Man - Chinese Restaurant, Toronto - The Economist - nickcalyx's Desktop - The Sydney Recreational Flying Club - Law & Order - New photographs with old slogans - Time Lapse in Beijing - Ever/Siempre's mural painting
Over the years, our posters have been used in many different ways: for exhibitions, as illustrations in books and periodicals, or to be shown on websites, blogs, social media.
Here we would like to give you just a few examples of less obvious cases. If you know other examples, please let us know!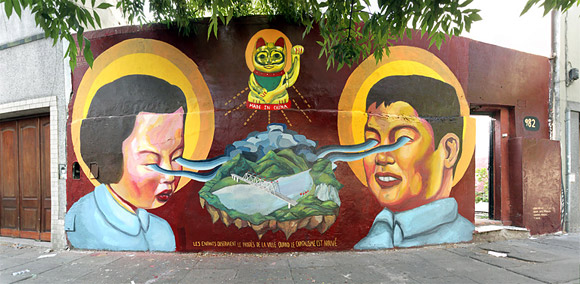 Ever (on flickr: ever/siempre - https://www.flickr.com/photos/ever_dsr/) is a former graffiti writer, who turned to creating large-scale mural paintings in the streets of Buenos Aires in the 1990's - and many other cities since. Exploring different subjects to create intriguing pieces of public art, Ever mixes and re-uses elements from very different sources with elements of his own, executed with great technical skill. In recent years, Ever has often used elements from Chinese communist propaganda, especially Mao portraits.When he discovered our propaganda posters on Flickr, Ever saw things he could use in an unexpected way – such as Zhang Yuqing's 1977 poster celebrating the building of a railway bridge.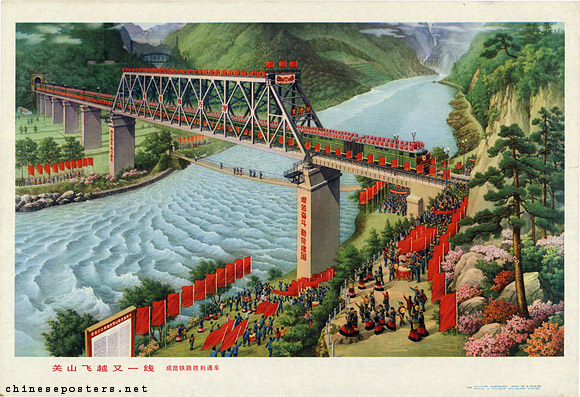 Late 2011 - early 2012, Ever painted a mural in Villa Crespo, Buenos Aires, entitled "Les enfants observaient le progres de la ville communiste quand le capitalisme est arrivé" (The children observed the progress of the communist city when capitalism arrived). At the center is Zhang Yuqing's bridge – from a higher perspective, without train, without people and without most of the red flags – between two children, looking, with streams coming out of their eyes and haloes behind their heads. Above the bridge, a Lucky Cat is waving or beckoning.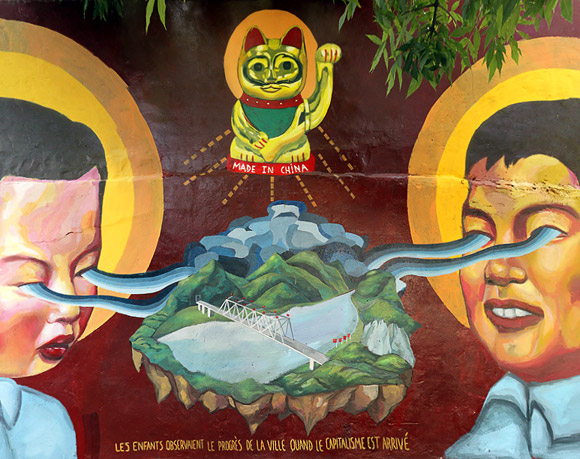 The bridge appears again on a mural painted in Foligno, Italy, 2012. The face is based on a model worker, found on a 1978 poster (see https://www.flickr.com/photos/chinesepostersnet/6726707439).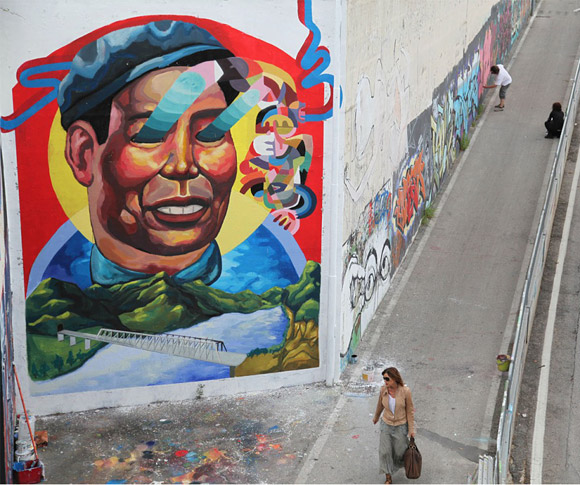 The main figure of the 1966 poster "Warriors love reading Chairman Mao's books most" appears in a temporary wall painting in Rue Oberkampf, Paris, France, created July 2012 in a public art program of the association M.U.R. (Modulable, Urbain et Réactif). The title of Ever's creation: "Le peuple marchait, enthousiaste, quand apparu le capital dans le regard du soldat communiste" (The people marched enthusiastically, when capital appeared in the look of the communist soldier). The part below, with marching and pointing people, reminds of a poster from 1966 (see the detail below, and the full poster at https://www.flickr.com/photos/chinesepostersnet/6695754177).
We look forward to more!
Mural images: courtesy of Ever/Siempre, Graffitimundo and M.U.R.