David Alan Grier, The Book of David - Chairman Miaow - Shepard Fairey, Molotov Man - Chinese Restaurant, Toronto - The Economist - nickcalyx's Desktop - The Sydney Recreational Flying Club - Law & Order - New photographs with old slogans - Time Lapse in Beijing - Ever/Siempre's mural painting
Over the years, our posters have been used in many different ways: for exhibitions, as illustrations in books and periodicals, or to be shown on websites, blogs, social media.
Here we would like to give you just a few examples of less obvious cases. If you know other examples, please let us know!
---

In 2010-2011, Dutch photographer Alice Wielinga created a series of images, "illustrating the possibilities of what would happen should three important historical periods occur at the same time. The periods consist of Imperial China, the Cultural Revolution Era and post-Olympic modern China. Characters from these eras meet and cause a comical generation/cultural clash at the Forbidden City of Beijing".
In the second image from the series, "the emperor is doing his daily stroll around the Palace. He is infuriated when he sees a toddler tourist using the palace ground as her bathroom and none of the servants know how to handle the situation. In the center of the image, the working-class (farmers) from the Cultural Revolution Era are conforming to Chairman Mao's propaganda. A phoenix appears above the girl's wheat bunch and a dragon flies out of the boy's bucket 3. On the right, the empress is departing the palace with a few governors and generals".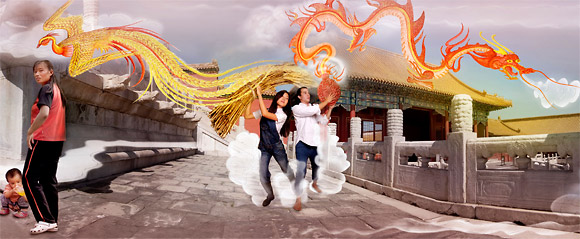 The center part is modelled on our 1959 poster "Prosperity brought by the dragon and the phoenix"; the dragon and phoenix have undergone extensive photoshopping.
Alice Wielinga's photographs (and the texts quoted above) can be found at http://www.alicewielinga.nl/.