David Alan Grier, The Book of David - Chairman Miaow - Shepard Fairey, Molotov Man - Chinese Restaurant, Toronto - The Economist - nickcalyx's Desktop - The Sydney Recreational Flying Club - Law & Order - New photographs with old slogans - Time Lapse in Beijing - Ever/Siempre's mural painting
Over the years, our posters have been used in many different ways: for exhibitions, as illustrations in books and periodicals, or to be shown on websites, blogs, social media.
Here we would like to give you just a few examples of less obvious cases. If you know other examples, please let us know!
---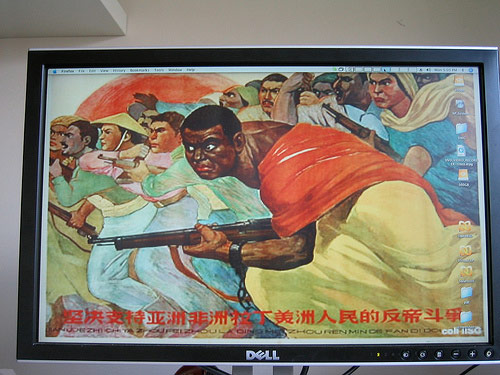 Flickr user 'nickcalyx' found one of our posters on the web, and liked it so much that he used it as desktop wallpaper. In July 2007, he took a photograph of his computer screen, and uploaded the picture to Flickr, where we accidentally found it (at https://www.flickr.com/photos/nickcalyx/699178222/

). To close the circle, we put the picture here!