David Alan Grier, The Book of David - Chairman Miaow - Shepard Fairey, Molotov Man - Chinese Restaurant, Toronto - The Economist - nickcalyx's Desktop - The Sydney Recreational Flying Club - Law & Order - New photographs with old slogans - Time Lapse in Beijing - Ever/Siempre's mural painting
Over the years, our posters have been used in many different ways: for exhibitions, as illustrations in books and periodicals, or to be shown on websites, blogs, social media.
Here we would like to give you just a few examples of less obvious cases. If you know other examples, please let us know!
---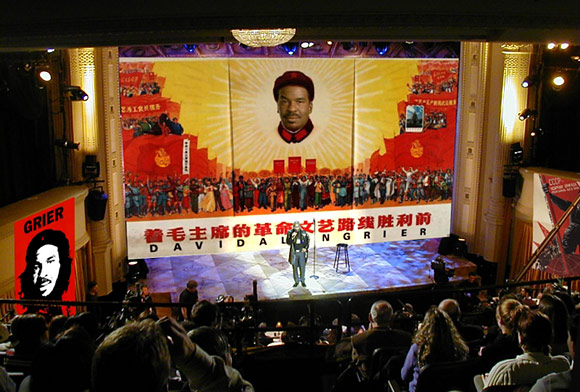 In 2003 the poster 'Advance victoriously while following Chairman Mao's revolutionary line in literature and the arts' (ca. 1968) was used to create a backdrop for the stand-up comedy performance 'The Book of David: The Cult Figure's Manifesto' by American actor and comedian David Alan Grier.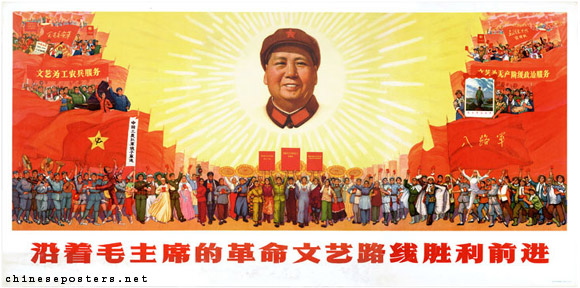 This is a design, not an actual picture of a performance. The poster on the far left is a variaton on a Che Guevara poster, the poster just visible on the right a 1930 Soviet poster. Both are from the IISH collection.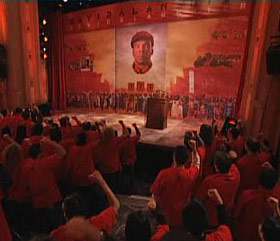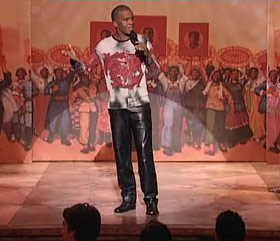 These are pictures from the performance. On the left the show is about to start. The central part of the curtain will rise to let Grier come on stage, the audience is wearing red Che-Grier T-shirts. The backdrop design has been altered: the left and right part of the original poster are switched, and Grier no longer wears a mustache. On the right, Grier is talking about the New York Knicks. You can see how much attention has been paid to the details of the design: all faces on the Red Books and in the crowd have been altered. Videos of Griers performance are available online at http://www.comedycentral.com/comedians/david-alan-grier

.