David Alan Grier, The Book of David - Chairman Miaow - Shepard Fairey, Molotov Man - Chinese Restaurant, Toronto - The Economist - nickcalyx's Desktop - The Sydney Recreational Flying Club - Law & Order - New photographs with old slogans - Time Lapse in Beijing - Ever/Siempre's mural painting
Over the years, our posters have been used in many different ways: for exhibitions, as illustrations in books and periodicals, or to be shown on websites, blogs, social media.
Here we would like to give you just a few examples of less obvious cases. If you know other examples, please let us know!
---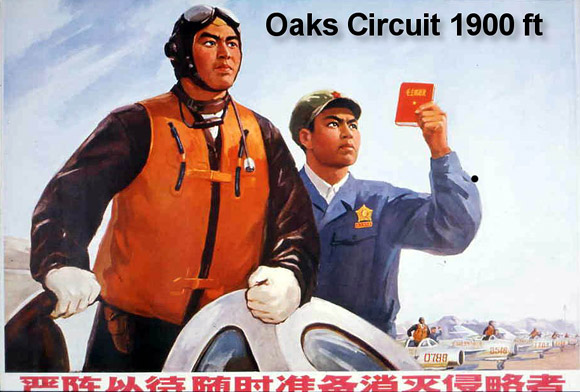 The Sydney Recreational Flying Club, operating from The Oaks Airfield (Sydney, Australia) is sometimes troubled by flights from a neighbouring airfield at a circuit height of 1.900 feet. One of the Club members, with memories of the Chinese posters being around when he studied in the 1970's, had fun photoshopping some posters to 'warn' the other airfield.
The poster above, posted on the SRFC blog in October 2008

, is given the alternative title "Be ever vigilant to guard our circuit from intruders". The original poster, "Stand in combat readiness, be always prepared to eliminate the agressor", from 1970, can be found on our page on the People's Liberation Army Air Force.
Two other altered Chinese posters from the same blog page are shown below.